What happens when you combine a 5-year-old playing with toothpaste and a steamy bathroom mirror?

Around here, we call it an object lesson. See that squirt bottle? Mama is not going to be cleaning this mess.
It's easy and inexpensive to make your own window cleaner. I've tried a few different recipes and this one works the best. One batch costs pennies cents to make–that sure beats store brand Windex at $2.39!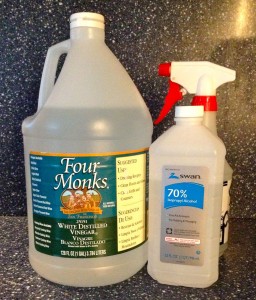 Ingredients:
1 cup rubbing alcohol
1 cup water
1 tablespoon white vinegar
Pour into a clean squirt bottle and fill with tap water.
Hand the bottle to your minion and send him to the nearest dirty mirror.

If you're lucky, he might get motivated enough to wash more stuff.

Watch as your bathroom becomes sparkly clean! Or less of a biohazard, at least.

Now if I could just get him to mop the kitchen, I'd be in business…