Friends, it is DRY here in California. We just learned that the Central Valley (where more than half of the country's fruits and veggies are grown) is not getting any irrigation water this summer. This means that prices are going to skyrocket.
Don't grumble…fight the power! Start a garden! Even if you only have an apartment patio, you can grow your own vegetables. There's no comparison in flavor, and a $3 packet of seeds will give you plants for several years.
Here are my 5 favorite container veggies for beginning gardeners. They're all easy to start from seed and will grow happily in containers on your patio, driveway, poolside…wherever you can fit 'em. All these varieties are from my friends at Renee's Garden.
"Bush Slicer" cucumber: Juicy slicing cucumbers in record time on disease resistant, dwarf bushes, perfect for a small space or container. The 6 to 8 inch long fruits have smooth, tender skin and sweet, crisp flesh.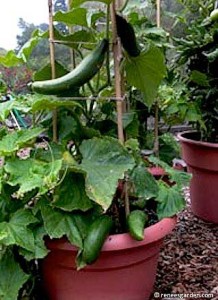 "Astia" zucchini squash: French bush variety, developed especially for containers and small space gardens. Compact squash vines are ornamental, early bearing & productive. Easy to harvest, glossy green fruits.
"Pot of Gold" chard: Delicious, reliable and highly ornamental, these vigorous plants have crunchy golden stems contrasting with deep green leaves. Perfect for containers or striking mixed borders.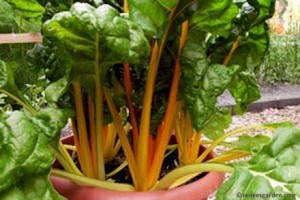 "Jade Gem" lettuce: An heirloom gardener's favorite: with 6 to 8 inch tall, fat little rosettes of juicy-sweet, wavy leaves that look like a plump mini romaine. Fast to grow for long harvests of ready-to-eat salads.
"Rolande" bush bean: Extra-slim, long deep green filet or "haricot vert" snap beans. A fine French delicacy with superb taste. Refined introduction with extra-crispy texture.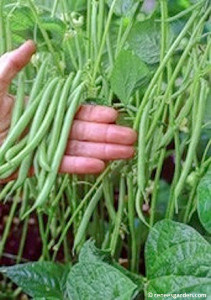 Container gardening tips:
If outdoor cats are getting into your garden containers, here are some ways to keep them out.

Use a large container so the roots have space to grow. It doesn't need to be a fancy pot–an empty 5-gallon bucket with drainage holes is perfect.

Don't use regular garden soil in your containers. A good commercial potting mix will give consistent drainage, is free of weeds and pests, and has lots of nutrients. I like this variety but for heaven's sake, buy it locally.

In the heat of summer, check the soil dryness at least every other day. Stick your finger in the soil and if it's dry below the surface, water.

Once a month, apply diluted fertilizer to the containers. I use this although it's a little stinky.
Need seed starting advice? I've got ya covered:
How to Plant a Seed: Attainable Sustainable
Spring Seeds Have Arrived!: Faulk Farmstead
Seed starting for biodiversity, pest control and fun!: Common Sense Homesteading
Starting seedlings on the cheap: Hobo Mama
3 Free Containers to Start Garden Seeds: Simplify, Live, Love
Once you've mastered these veggies, you can start tomatoes and peppers from seed like us crazy folks around here.
Happy gardening!
All photos courtesy Renee's Garden
This article was shared on Simple Lives Thursday, Frugally Sustainable, Fabulously Frugal Thursday, Unprocessed Fridays, Fat Tuesday, Small Footprint Friday, and Wildcrafting Wednesday.