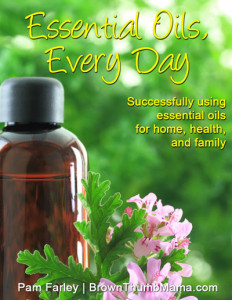 I'm so glad all of you are here on this crazy journey with me! I've been working on an essential oils ebook for a while (essential oils are passion of mine) and I'm giving it away to you for free. Yep, that's right–absolutely free!
Essential oils are a big subject, and it can feel overwhelming as you're getting started. I read multiple books and talked to many experts as I started my essential oil journey–but most people don't have that kind of time. So I consolidated the key information into an easy-to-understand ebook: Essential Oils, Every Day: Successfully using essential oils for home, health, and family.
What's The Catch?
What's the catch?  There is no catch! This is a simple resource that tackles a big topic, but in a way that's easy to comprehend and will get you excited about essential oils. They are a wonderful way to take charge of your health, save money, and learn about natural solutions and remedies to everyday problems.
I hope you find this ebook useful and inspiring on your journey to a more natural lifestyle.
Want To Learn More About Essential Oils?
I've had so many requests from other essential oil lovers and learners for more information, so I created a private essential oils Facebook Group for us. Stop by, see what's happening in the group, and join the conversation!
I would love to talk oils with you and would be more than happy to answer any questions you may have. The group is a fun place to be!
Your family can experience the same empowerment that essential oils have given my family, which is why I created this book for you.