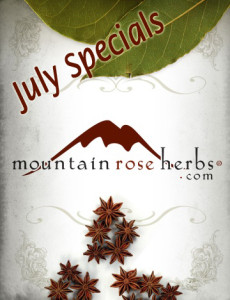 Here are some of the items on special at Mountain Rose Herbs this month, along with ideas about how to use them. Enjoy!
They're not just for Chia Pets anymore! Chia seeds have more calcium than a glass of milk, more Omega-3s than Salmon, and more antioxidants than blueberries. They're high in omega-3 fatty acids and promote a healthy digestive tract — relieving constipation, diarrhea, and inflammation.
First used medicinally in ancient Egypt, olive leaf is currently being studied for its effects on energy, healthy blood pressure, supporting the cardiovascular system and the immune system.
I'd never heard of this herb until now. A member of the asparagus family, Shatavari is highly regarded as an herb for women's health and it is the most important herb in Ayurvedic medicine for problems connected to women's fertility. The name Shatavari is from an Indian word meaning "a woman who has a hundred husbands."  *ahem*
Best known for its calming effects on mental stress and fatigue, this lovely hydrosol is also beneficial for general skin irritations, and makes a soothing addition to room and body sprays. A couple of tablespoons added to a bath is the perfect way to end the day (better than Calgon!).
Green rooibos is harvested from the same South African plant as the traditional red rooibos but is processed differently. This tea is considerably higher in anti-oxidants, trace minerals, and nutrients as well.
If you dont want to make your own lip balm, have the experts at MRH do it for you! Check out these luscious flavors:
3 Mint + Cocoa
Hibiscus + Ginger + Rosehip
Lavender + Meadowsweet
Nourishing Herbal
Spiced Chai + Coconut
Freebie!

Subscribe to the BrownThumbMama newsletter and get my FREE guide to essential oils!