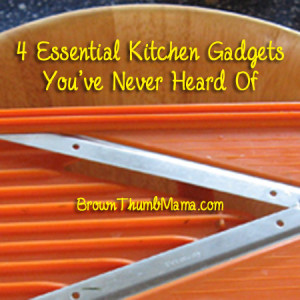 To paraphrase Aristotle and Alton Brown, "Kitchens abhor unitaskers." Which, loosely translated, means "Don't buy unnecessary gadgets."
I enjoy cooking and sometimes it's nice to have a tool that does a specific job very well. These four tools are worth the extra space they take up!
Mandoline slicer

I use my mandoline slicer to:
Spring whisk

A spring whisk is great for mixing light sauces and especially eggs:
Microplane zester

These are not just for grating parmesan! I use my microplane zester to:
Immersion blender

This was a wedding gift that I didn't open for ages. Then I realized it's easier to use and clean than a regular blender! An immersion blender comes in handy for:
Do you have any unitaskers you can't live without? Share with us in the comments!