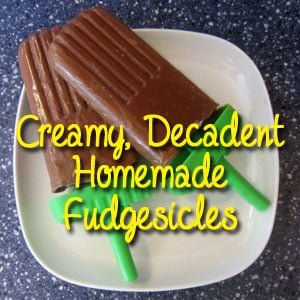 School's out next week, the temps are climbing, and it's time for cold drinks and popsicles. I love, love, love fudgesicles, but I don't like paying $4.99 for the stuff in the "brand name" ones:
Nonfat Milk, Maltodextrin, Sorbitol, Polydextrose, Cocoa Processed With Alkali, Whey, Palm Oil, Tricalcium Phosphate, Cellulose Gel, Cellulose Gum, Mono & Diglycerides, Malt Powder, Salt, Guar Gum, Aspartame, Polysorbate 80, Acesulfame Potassium, Artificial And Natural Flavor, Polysorbate 65, Citric Acid, Carrageenan, Caramel Color, Locust Bean Gum.
And I sure as heck don't want to be eating that stuff! I figured I could just make homemade pudding and freeze it–right? Wouldn't that be just like the pudding pops we grew up with? Unfortunately, the family decided they "weren't chocolatey enough" and I had to go back to the drawing board. (Darn.)
This recipe is a winner! It gets its depth of flavor from the chocolate chips. You can't go wrong with some really good cocoa powder, either.
Ingredients:
Popsicle molds (I recommend these)
2 1/2 cups whole milk
2/3 cup sugar
2 Tablespoons cornstarch
3 Tablespoons unsweetened cocoa powder
1/4 cup semisweet chocolate chips
1 teaspoon vanilla extract
1 Tablespoon butter
Put the milk, sugar, cornstarch, and cocoa powder in a saucepan and mix carefully over medium heat. A spring whisk will help make sure you get all the lumps out. Add the chocolate chips and cook, stirring frequently, until they are melted.
Remove from heat, add the vanilla and butter, and stir until combined.
Allow to cool slightly and then pour into popsicle molds. Freeze until solid (several hours to overnight).
When it's time to serve, dip the individual molds into hot water for a few seconds and they'll pop right out.