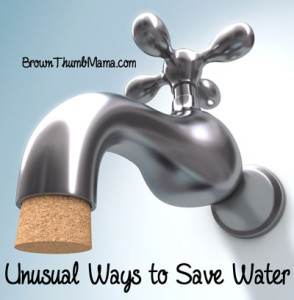 This came in the mail yesterday.


Water meters will be installed in our neighborhood this fall, to be be activated in 2010. [scary organ music plays as I look at the 25,000 gallon pool]
Since I have no idea how this will affect the budget, we're ramping up our conservation efforts now.
Everybody knows to turn off the water while brushing teeth, to take showers instead of baths, and so on.
Here are some different ideas that you might want to try:
Don't flush kleenex, smooshed bugs, or deceased aquarium fish. The outside trash will do just fine for all of these.
Instead of running the garbage disposal, put veggie peelings in the outside garbage or the compost bin.
Scrape plates instead of rinsing them before loading the dishwasher.
When you change the fishtank water, use the "old" water for the garden. Veggies and flowers love fishy-poo water.
At a restaurant, only ask for water if you're actually going to drink it.
When you make (or buy) laundry soap or dishwasher soap, use the powdered form. The liquid version is the same thing, just with water added.
Put extra ice cubes in your houseplants instead of dumping them in the sink.
But don't:
Put your pasta or veggie cooking water on your plants if you put salt in it. Salt is a plant killer!
Put a brick in your toilet tank for water displacement. Any particles that wear off the brick can mess up your plumbing. Use a milk jug filled with rocks or this "toilet tank bank."
Is anybody else thirsty?