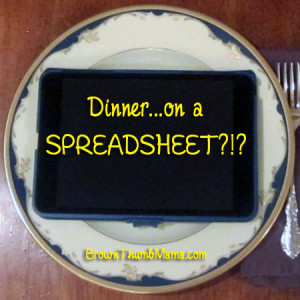 Yes, it's true. I keep a list of our favorite main dishes in a spreadsheet.
Why on earth would I do this? People, my brain is tired.
Working, blogging, parenting, and wife-ing all take up time and valuable cranial real estate. If I can write something down and not have to remember it–that is exactly what I'm going to do.
Here's what my spreadsheet looks like:

New recipes that get a thumbs-up make it onto the spreadsheet; those that don't get tossed.
Here's why it's helpful:
Major neural preservation, as listed above.
If you menu plan by themes (e.g., Meatless Monday, Family Fave Thursday, etc) it makes it easy to plug meals into each spot.
You can look at your freezer inventory, see what you have a lot of, and plan dinners around that.
Can't decide? Have fun. Label some dice by category. Roll to choose what's on the menu.
If you're bringing a meal to a new mama or a friend who's sick, send them the spreadsheet and let them choose!
Do you keep a favorite meal list or pinboard? Share with us in the comments!