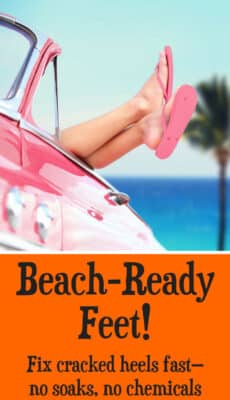 Summer's here! Anybody else headed to the pool or the beach this summer?
If you have rough, cracked heels, you know that getting chlorinated pool water or sand on your feet is painful. Not a fun way to spend your vacation!
We have a problem with cracked heels around here—I'll spare you the pictures—and I'm so excited to share this natural way to fix cracked heels.
There are several things that can cause cracked heels, including dry skin, standing all day, being overweight, or athlete's foot, eczema, or diabetes.
Some people will tell you to soak your feet in Listerine, or put chemical concoctions on your feet. However, your skin is the largest organ of your body and will absorb whatever you put on it.
This is why I make my own lip balm and soap—you shouldn't put anything on your skin that you wouldn't be willing to eat!
The very best way to fix your cracked heels is called Tallow Balm. It's handmade by my friend Emilie in the southern U.S. (We met at doTERRA Convention in 2015 and have been friends ever since. So excited to see another entrepreneur succeed!)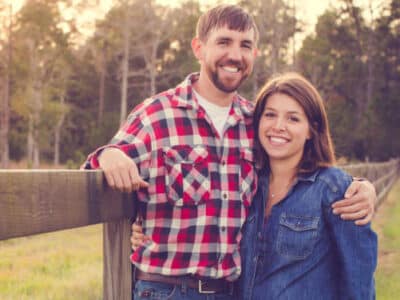 Check out the amazing, natural ingredients in Tallow Balm:
tallow from grass-fed cows
organic cold-pressed olive oil
organic essential oils
Why do the ingredients in Tallow Balm work so well to fix cracked heels, rough elbows, and more? (Hint: it's amazing for eczema and diaper rash, too.) Let's look at each of the natural ingredients Emilie uses.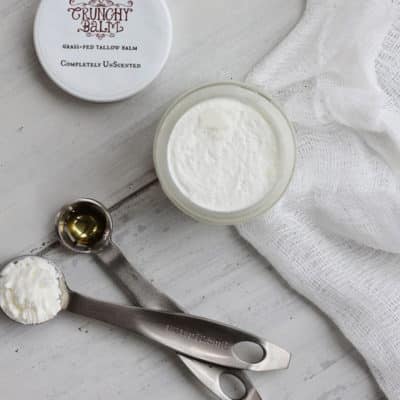 Tallow from grass-fed cows
Tallow is rendered animal fat, and it contains lots of ingredients that nourish our skin: vitamins A, D, K, and E; omega 3 fatty acids; conjugated linoleic acid (CLA); and palmitoleic acid.
CLA has anti-inflammatory properties and palmitoleic acid has natural antimicrobial properties—both great for tired, working feet.
Organic cold-pressed olive oil
Since tallow is solid at room temperature, olive oil is used to soften it and make it easier to apply. Just like tallow, olive oil is nourishing for skin and contains vitamins K and E, which boost skin health.
Organic essential oils
Tallow Balm is available unscented, but I love the "Sweet Girl" scent—it contains organic essential oils of marjoram, chamomile, ylang, ylang, spruce, and frankincense.
These oils have amazing healing properties on their own, and they combine to make a great fragrance.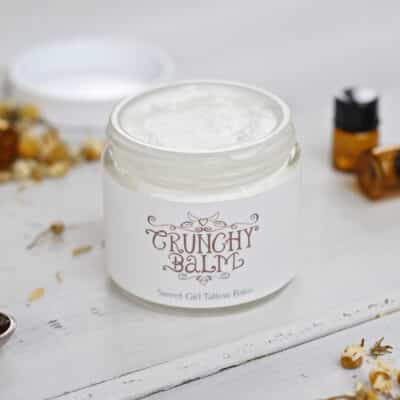 Fix cracked heels with Tallow Balm
In the morning after your shower, dry your feet carefully and thoroughly. Apply Tallow Balm to cracked heels and rub gently until absorbed. Put on clean, cotton socks (I like these).
Repeat before bed. If you don't want to wear socks to bed, do the steps after dinner. Wash your feet or wipe with a washcloth. Dry thoroughly and apply Tallow Balm. Put on clean, cotton socks.
It will take time to fix cracked heels, but Hubby saw improvement in just two days. Take a couple of minutes each day to nourish your skin and you'll be ready for sandals in no time!
There's More!
In addition to Tallow Balm, Emilie makes amazing, natural deodorant; bug repellent; activated charcoal face soap (great for acne); and more. Check out Toups & Co. Organics and see all the natural ways you can care for your body!