The garden is a quiet place now. The zucchini, cucumbers, and potatoes are gone, and the cantaloupe and watermelon never made it past vine stage. There are a few tomatoes hanging on, but no flowers.
The peppers are still producing–Blue Jay bells, Anaheims, and Cayennes. They're the most vigorous peppers I've grown in years!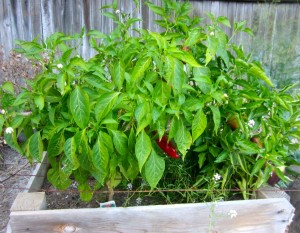 The snow peas are doing well. Jackjack can't get enough of these, so I always plant a lot. If Little Peanut starts to like them too, I'll have to find a place to plant a second row. (What a good problem to have, huh?)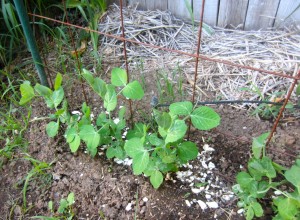 The carrots are just beginning to sprout. The wire covers the raised bed so Neighbor Kitty won't use the garden as a bathroom.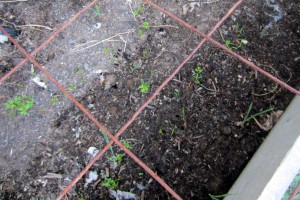 My most exciting garden addition is this elegant Steeple Bells Trellis from my friends at H. Potter. It fits perfectly in the blank spot between the raised beds and the birdbath. In the spring, I'll plant some climbing nasturtiums and it will be covered in beautiful flowers!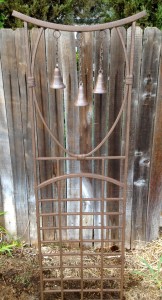 I'll plant my garlic soon, and there are some bok choi seedlings sprouting on the windowsill. The Fall garden is pretty mellow compared to the bounty of the summer.
Do you garden into the Fall? What are you growing? Share with us in the comments!