Chipotle has been in the press a lot lately for their decision to only use non-GMO ingredients in their restaurants. I've always been a big fan of Chipotle (mmmm, Cilantro-Lime Rice) but this makes me like them even more.
So why are companies like Quaker, and their parent PepsiCo, shelling out millions of dollars to block GMO labeling in the US? Especially when they are already labeling in Europe?
Because money talks–and Quaker is about to hear a lot of silence.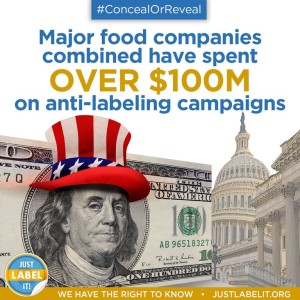 Lake Research Partners recently published a survey demonstrating that brands that either don't label GMO food ingredients in their products, or support anti-mandatory GMO labeling efforts risk losing a significant quantity of customers. Three household name brands trusted by families for generations were tested including Quaker, a division of Pepsi.
"Customers want to know if products contain GMO food ingredients and they feel betrayed by the brands they trust when they aren't transparent about it," said Joshua Ulibarri, Partner at Lake Research Partners. "They were even more concerned when they learned that these same brands fund efforts to block mandatory GMO food labeling."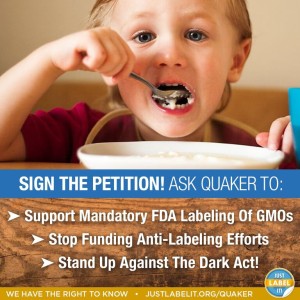 The survey showed that nearly 70 percent of moms were less likely to purchase products from Quaker and its parent company PepsiCo when told that the company funneled millions of dollars into campaigns to deny consumers the right to know about GMOs. Nearly 93 percent of moms want Quaker to label GMOs and 80 percent want Quaker to stop funding anti-GMO labeling efforts.
Hey Quaker–guess what? Moms want to know what they're feeding their kids. Why won't you tell us?
Why does this matter? GMO crops have led to huge increases in herbicide use, which contributes to an array of threats to the health of people and the environment. And the World Health Organization recently labeled the main herbicide used on GMO crops as probably carcinogenic. (source)
I'm certainly not going to feed my family foods that are full of poison. We have the right to know what's in our food!
If you value transparency, please sign this petition and share it with anybody else you know who eats food. http://bit.ly/GMOlabelBTM
This post was created as part of the Just Label It campaign, for which I am a financially compensated Labeling Advocate. The opinions are my own and based on my own experience.