Our motto here at BrownThumbMama is "Make it, don't buy it." Whether it's a simple recipe like DIY Natural Febreze or something a bit more involved like Homemade Orange Chicken, there are huge benefits to handmade over store-bought.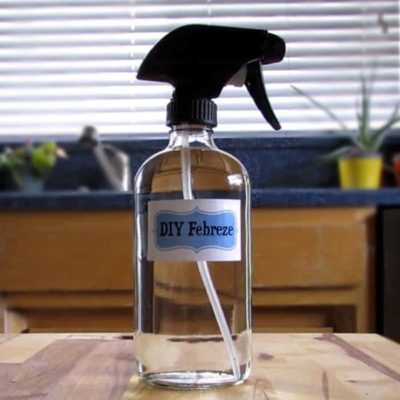 There are a growing number of people who prefer the homegrown and handmade lifestyle, and I'm excited to tell you about a new resource for all of us: Homegrown and Handmade by Deborah Niemann.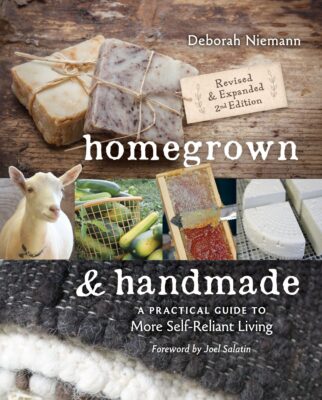 My review copy of this great new book is already dog-eared and bookmarked because of all the great things I'm learning from it! If there's anything to be said about being a city homesteader–you have to always keep learning.
We've been gardening in our city backyard for 20 years now, and I've been cooking from scratch for about 10. Plus we enjoyed being having our own backyard beehive a couple of years ago. But there's so much more I want to know.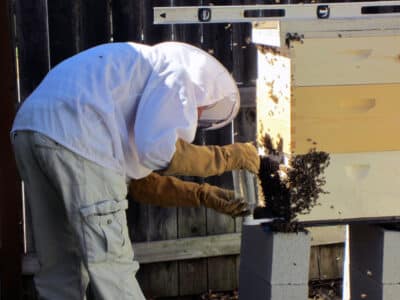 What has "living homegrown and handmade" done for our family? It's enabled us to live happily on a modest income. I was able to quit my stressful office job, be home with our kids, and help Hubby with his business.
In a society that equates success with busy-ness, slowing down and making your own can benefit you and your family (not to mention your blood pressure!).
Here are some of the great things you'll learn in Homegrown and Handmade:
Gardening (even in winter)
Cooking from the garden
Creating a backyard orchard
Backyard poultry
Home dairy
Homegrown business (awesome info here)
and lots more.
And now the very best part: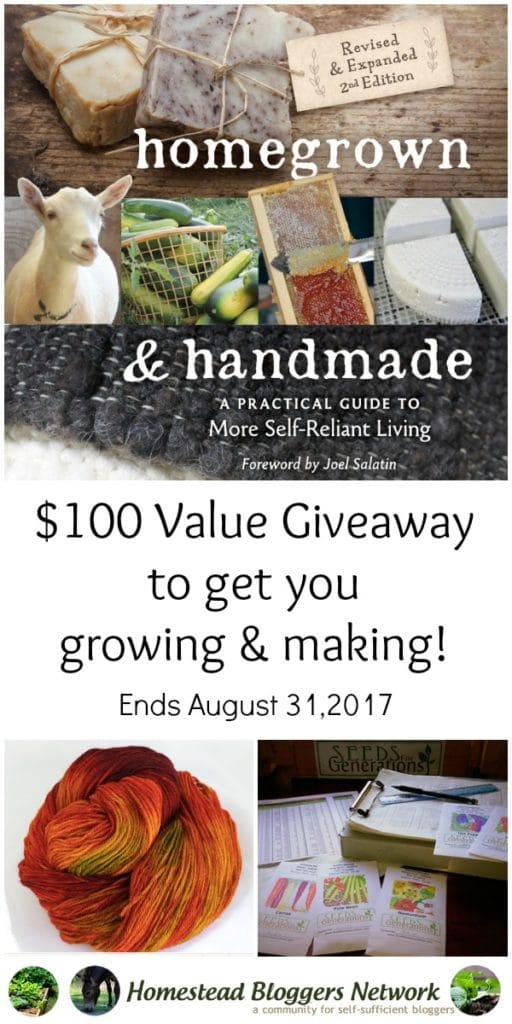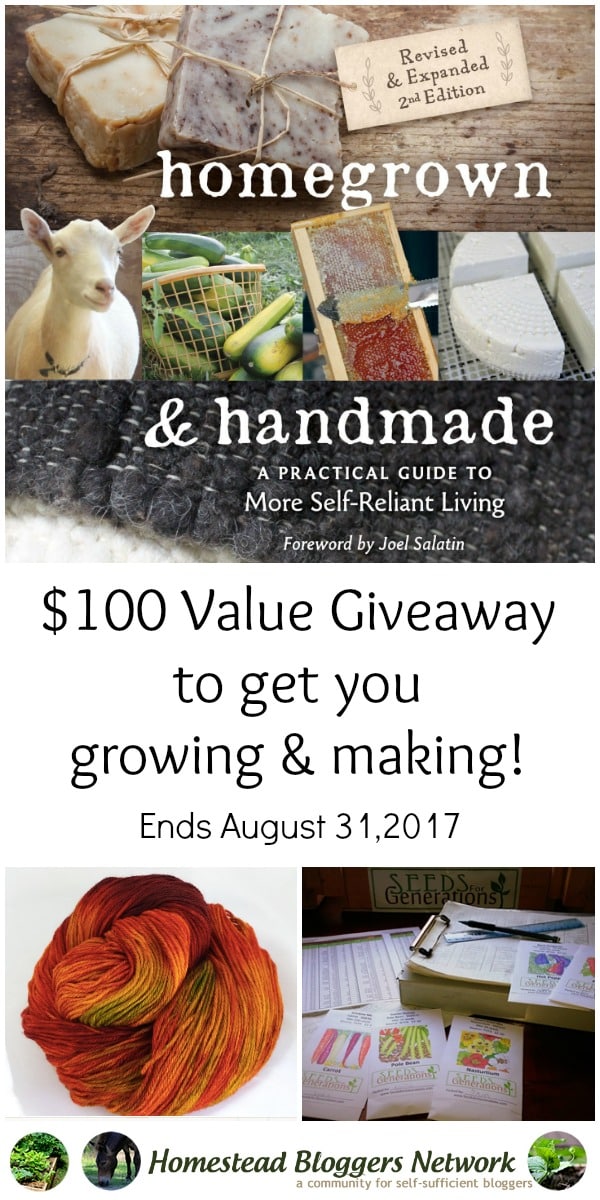 Homegrown and Handmade Givewaway
I'm so happy to be offering this prize package valued at more than $100 to celebrate the launch of Homegrown and Handmade by Deborah Niemann.
This comprehensive guide to food and fiber from scratch proves that attitude and knowledge is more important than acreage. Written by a successful, self-taught modern homesteader, this well-illustrated, practical, and accessible manual will appeal to anyone who dreams of a more empowered life.
Chapters include gardening, keeping backyard livestock, and making your own handmade items. And this exclusive giveaway package through Homestead Bloggers Network will have items you need to bring the book to life in your own home!
One winner will receive:
Enter to win with the rafflecopter widget below. Log in with your name and email or Facebook account, complete the mandatory entry method to unlock optional entry forms as well.
Giveaway will close August 31st, 11:59pm and the winner will be emailed the following day. Winners should respond within 48 hours or a new winner will be contacted. Open to US residents 18 years of age and older.
a Rafflecopter giveaway