Wintertime in California means citrus, and lots of it. Nearly every yard in my neighborhood has a lemon, lime, grapefruit, tangerine, or orange tree—sometimes several.
To match this abundance of citrus, I have an abundance of recipes (Lemon cake! Lime Sorbet! Orange chicken!)–but I didn't have any drink recipes. That's a situation just asking to be fixed.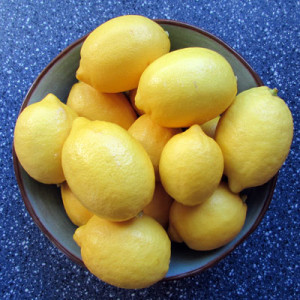 The kids love lemonade, and we were buying the powdered stuff. When I read the ingredients, I learned that it doesn't actually have lemon in it–just citric acid for tartness, artificial flavor, yellow dye, and LOTS of sugar.
This year, we experimented with different ways to make lemonade. We have lots and lots of honey, so I wanted to use it instead of white sugar.
This natural, honey-sweetened treat is a burst of sunshine in the middle of winter. It's a little bit sweet and a little bit tart, just like homemade lemonade should be.
Ingredients
12-14 organic lemons
1 ½ cups honey (or more, to taste)
water
Scrub the lemons and peel, trying not to get too much of the white pith. Set the peel aside.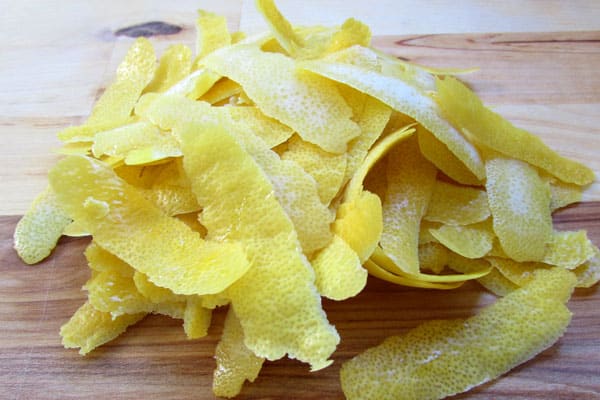 Put 8 cups of water in a large saucepan and add the honey. Stir and bring to a boil, then turn off the heat and add the lemon peels. Let the lemon peels steep, stirring occasionally, until the honey water has cooled.
While the honey water is cooling, juice the lemons. You should end up with about 3 cups of juice.
Remove the peels from the honey water and add the lemon juice.
If you stop here, you have lemonade concentrate. You can freeze this in large canning jars and have lemonade-on-demand. Just add ¾ cup of water for every cup of concentrate.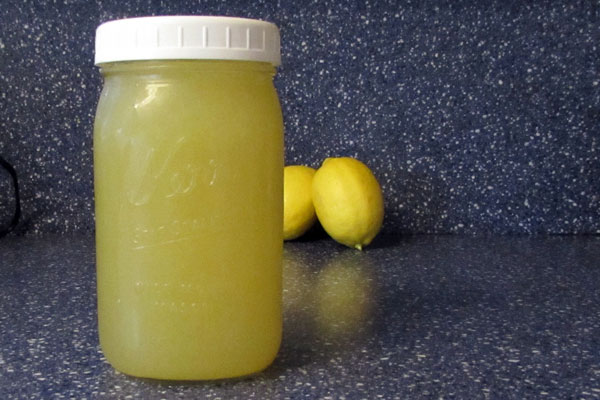 If you can't wait and want to drink your lemonade right away, add ¾ cup of water for every cup of concentrate used.
Kitchen Tips
Because we're using the lemon peel, it's important to use organic lemons or those that haven't been sprayed with pesticides. Ask your farmer/gardener/neighbor to be sure.
For juicing large quantities of fruit, I recommend the juicer attachment for the KitchenAid stand mixer. It saves tons of time and strains out the pulp.
I love the plastic canning jar lids shown above. While they aren't safe to use for canning, I use them all the time when keeping items in the fridge and freezer.
It's entirely possible that this lemonade could be improved with a splash of tequila or maybe some vodka. 😉 Try it and let me know!