I have a box of batteries sitting around waiting to be recycled, and it mocks me with its wastefulness every time I look at it. We've switched to rechargeable batteries for almost everything, but have accumulated a lot of "regular" batteries over time.

Rather than just give up and recycle them, I wanted to test them and see if any of them had juice left. Sometimes a battery can be too low to work in some items (like my camera) but can still power something else (like a kid's toy).
Testing household batteries is easy and you don't need a special battery tester. You do, however, need to dig through the piles on the garage workbench until you find the multimeter. In our house, this is no easy feat.
1. Turn on the multimeter and select "DCV."

2. Touch the red wire to the positive (bumpy) end of the battery.

3. Then touch the black wire to the negative end. If your battery reads more than 1.5 volts (for AAA, AA, C, D) or 9 volts (for 9V) it's still good. The one in the picture below is dead, dead, dead.

4. Lather, rinse, and repeat until you've finished the entire box. I had a lot of duds (the pile on the right) and 10 that were still good. Since batteries are about $1 apiece, a few minutes of testing saved 10 bucks' worth from unnecessary recycling!

Note: If your family thinks like mine does, they'll want to test every battery they can find with that thing. This method is only for household batteries, not car batteries or any other crazy notions your husband (or kids) may come up with.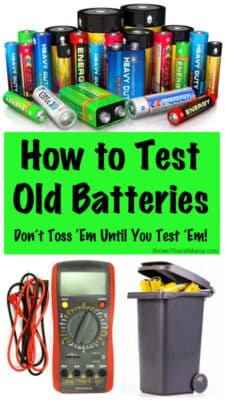 Save
Save