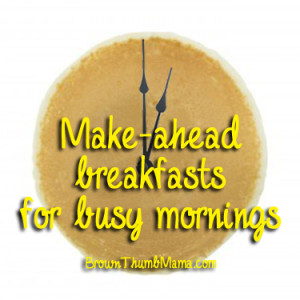 School starts next week, and that means mornings are going to be crazy around here. Little Peanut wakes up early, so I can fix her breakfast before I leave for work. But Jackjack and Hubby usually sleep in, so they're on their own–and Hubby admits he's not a fan of cooking.
Breakfast is a super-important meal, so you don't want to skip it. Eating breakfast improves energy, kick-starts your metabolism, and improves focus and concentration. Plus, a healthy, filling breakfast can influence your eating habits for the rest of the day.
Think about this–if you have a bowl of cereal (mostly sugar and air), you're hungry much faster than if you eat oatmeal with fruit and nuts. That's because the oatmeal has many more nutrients than the cereal (even if the cereal has been sprayed with "9 essential vitamins and minerals").
What's the answer for fast, filling breakfasts? Certainly not cereal. We always have homemade granola bars around, and I guess a PB&J would work fine too. But why not have a nice, hot, fast breakfast that will fill the kids up until lunch (or first recess, at least)?
Fast Breakfasts
I don't have time to cook a hot breakfast every morning, so I made a big batch of these breakfast favorites and froze them.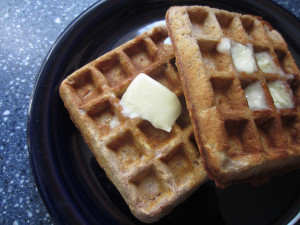 Hearty oatmeal-cinnamon waffles
Pancakes
French toast (from my Mickey Mouse Cookbook)
Banana muffins (add chocolate chips and watch them disappear)
Make a large batch of any of these favorites. Let them sit on a cooling rack until room temperature, then put the rack into the freezer until everything is frozen through.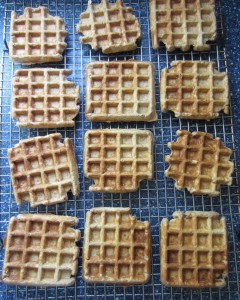 This is called "flash freezing" and it works for vegetables too. They won't stick together, and you can pop them into a freezer bag. At breakfast time, everybody can choose their favorite and heat-n-eat. Yum!
Save