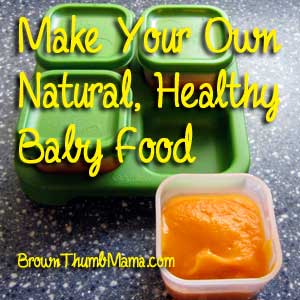 Little Peanut is seven months old and she's ready to start eating baby food. How do I know? Because she eyes every single bite that goes into our mouths with a combination of intense curiosity and drooly longing.
Jackjack can hypnotize her with a peanut butter sandwich…and he does. Her eyes follow it like a kitty watching a laser pointer. Thank goodness she's not mobile yet or he would have her running into walls, just for laughs.
I spent a little while last weekend making her some baby food. Yes, it takes more time than running to the store. So why do I do it? Economy and variety.
Economy
We all know that processed food costs more than the real thing. This is painfully evident when you check the prices of baby food. Store bought baby food costs about 30 cents per ounce. Plus there are all those teeny jars or plastic containers left over that need to be repurposed or recycled. Even if you only make some of your own baby food, you'll save lots of money.
Variety
Homemade food is a great way to expose baby to more flavors than the handful produced by Gerber. There are so many yummy things in the garden that you'll never find in a baby food jar! When Jackjack was little, he ate pureed parsnips and zucchini, along with the usual sweet potatoes, carrots, green beans, and so on.
Preparation
Sweet potatoes are a great first food for babies, and they're one of the easiest to prepare.
Preheat the oven to 425. Scrub the potatoes (we aren't going to use the skin, but you don't want to bake in any gunk).
Washed, poked with a knife, and ready to bake.
Poke a few holes with a fork or sharp knife and place them on a foil-lined baking sheet. You'll thank me for the foil at cleanup time…baked sweet potato juice is like napalm on cookie sheets. Bake for about an hour, turning once.
See that bubbly napalm goo? Just toss the foil–no scrubbing!
When they're done, slice them open with a knife. Resist the urge to sprinkle with cinnamon sugar and butter and eat the whole thing yourself (or don't…I won't tell).
The skin slips right off and the smell is divine.
Dump the potatoes into a large bowl and mash lightly with a fork or potato masher. Add water, a little at a time, and blend (a stick blender is perfect for this) until completely smooth.
Mash a bit and add water so the blender can do its thing.
Close, but not quite–too much texture for a new eater. Needs more water.
Smooth, blended, and ready for the deep freeze.
Scoop into containers to freeze. I use Green Sprouts Freezer Cubes to send food to daycare and the Green Sprouts Silicone Freezer Tray for home storage.
Once frozen, I pop the cubes out and store them in a labeled ziplock.
When you're ready to serve, warm a cube for just a few seconds, stir thoroughly, and test the temperature with your finger. Put a bib on baby and a splash guard on yourself and enjoy!
I hear that "sweet potato eyebrow" is the in look for 2012.