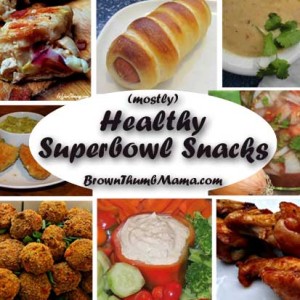 Even though our team didn't make it to the Superbowl this year, we're still having everybody over for a party. It will be a day full of food, football, food, fun…and did I mention food?
Here are some (mostly) healthy snacks that are great for football day or any day!
Jalapeno Poppers: Divine Health From the Inside Out
Spicy, Cheesy Chicken Dip: Kitchen Stewardship
Sweet & Spicy Buffalo Wings: Real Food Outlaws
Homemade Ranch Dip: Divine Health From the Inside Out
Pretzel Bun Hot Dogs: BrownThumbMama
Loaded Baked Potato Bites with Creamy Garlic Sauce: Happy Healthnut
Twisted Pizza: jarOhoney
Zesty Fermented Salsa: Rooted Blessings
Cheeseburger Egg Rolls: BrownThumbMama
Caveman Chili: Food Renegade
Sweet and Salty Snack Mix: Kitchen Stewardship
What's your favorite football snack? Share with us in the comments!