From age 8–when I was first given the Little House books–until now, I've been fascinated with Laura Ingalls Wilder's story of traveling by covered wagon, watching as Pa built their houses, and how they survived truly living off the land.
I have a hard time imagining if I could live like that. Yes, I've gone backpacking for a week without running water, electricity, or flush toilets, but I knew those things would be waiting for me when we returned to town.
The idea truly intrigues me though, and I wanted to learn more and see how it's done. So I talked with Teri from Homestead Honey and she gave me a copy of her book, Creating Your Off-Grid Homestead.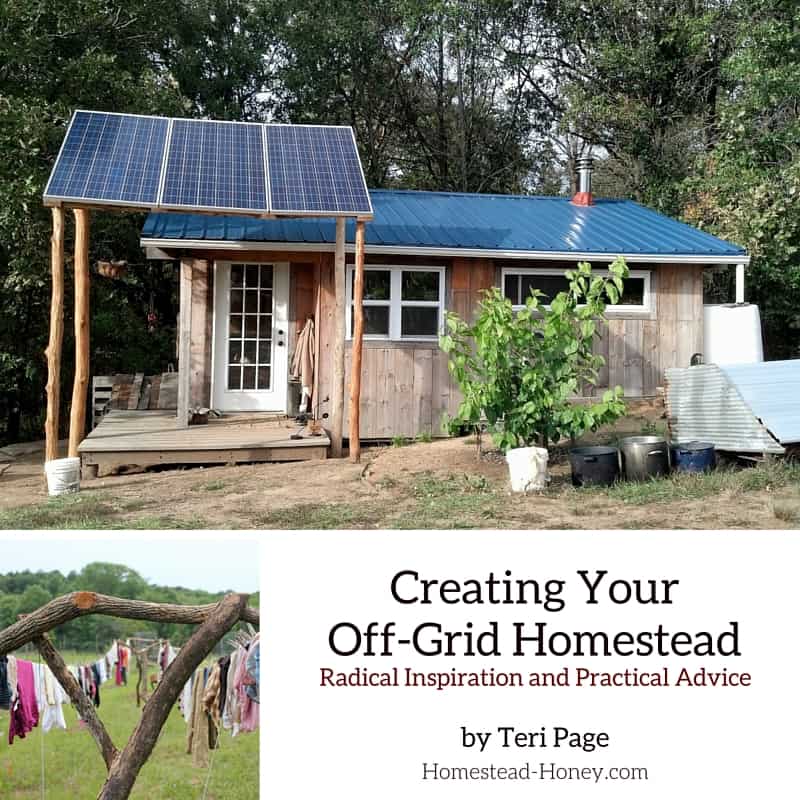 In
Creating Your Off-Grid Homestead
, Teri shares all the things she wished she knew before they started their off-grid life. She shares how her family created an off-grid homestead from scratch, working in phases, and adding projects and infrastructure as they had time and money.
She shares what worked, where they made mistakes, and how much they invested–it was more than they planned! And each chapter concludes with thought-provoking questions to help you reflect on your habits (if you're staying on-grid) or make the move to off-grid life.
What does "off-grid" mean?
Believe it or not, this is different for everyone. For some, it means generating their own electricity, but being connected to municipal water and sewer services. For others, it means having no connection to municipal services at all.
Teri, her husband, and their two daughters live in a 350 square foot house that they built themselves, on 20 acres of beautiful land in Missouri. (Sounds pretty similar to the Ingalls' log house on the Kansas prairie, right?) They run their businesses and homeschool their girls from their land.
Water
There's no running water—all water is hauled in buckets or collected in their rain catchment system. They like to joke that they don't have running water, they have "walking water." Water is such a basic need, and most of us can't imagine a life without turning on a tap. When you're homesteading off-grid, you have to know if the water you're drinking is pure; how you're going to heat water to bathe and wash dishes, and so forth.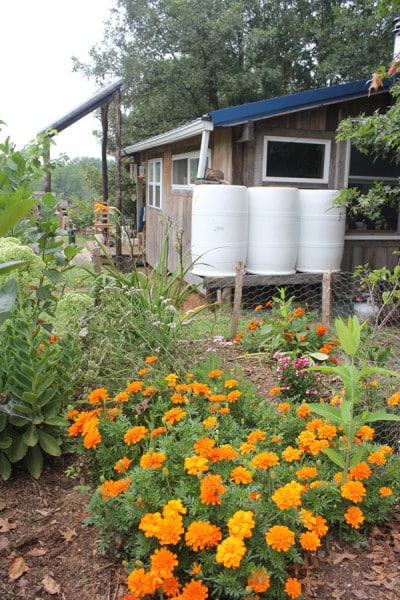 Warmth/Cooling
Now, think about warmth and cooling. The Ingalls' house on Plum Creek was a dugout and well insulated, but the houses in De Smet and Mansfield got plenty cold in winter and hot in summer. The same is true for Teri and her family. They have no air conditioning, so they rely on passive solar principles to stay cool (and they drink lots of water). In the winter, their wood stove keeps them warm.
Cooking
Quick: you have to make three meals a day for 4 people without a stove or refrigerator. What do you do? Most of us would throw our hands up in defeat. Teri and her family built an outdoor kitchen, with a wood-fired rocket stove, 2-burner propane stove, a solar cooker, and a newly-built pizza oven (Yum! See below). They also pipe in non-potable water from their rain catchment barrels.
Electricity
When they first started their homestead, Teri and family lived without electricity for more than a year. They really had to get creative to figure out ways to keep food cool, use their computers to run their businesses, charging their cell phones, and running power tools to build their homestead and outbuildings. I was impressed with the clever ways they solved these problems! I'm not going to give away their secrets, but you can read all about them in her book.
Toilet
Guess what? No running water = no flush toilet. Goodness knows none of the Little House books discussed this, but it's a real situation that must be managed. The Ingalls (and everybody else in the world) handled this the same way Teri and her family do: a composting toilet. These can be simple or elaborate, and you would be amazed at how efficient and low-odor they can be.
Community
It's very important to note that off-grid does not mean alone. As Ma Ingalls said, "Many hands make light work." You must create community and work with others, even if they are miles away. Teri and her family work with other homesteaders in their area to build gardens, plant trees, dig ditches, and more—things that can be done with one family but are much faster with many.
Reflection
My overview is mostly about the things us "city folk" wonder about. Teri talks about so much more in Creating Your Off-Grid Homestead, including permaculture, livestock, laundry, off-grid communication, and so on.
Our family is probably not going to make a radical move to live off-grid like Teri's—but learning how she lives has caused me to think about my family's life and how we can conserve. They must consciously think and reflect before they turn on a light switch, or use an appliance. How many of us can say the same?
"Living off-grid requires an adventurous spirit, a flexible attitude, some investment of time and money, and a bit of good old fashioned elbow grease. But the rewards are abundant." –Teri Page