Ever wondered what it would be like to utter those words? I can tell you–it's great!
Many of you know that I had a corporate job in addition to the blog and my essential oil business. I'm excited to share that I've left the corporate world and am blogging and oiling for a living.
No more cubicle walls, no more endless meetings. Little Peanut and I pick J-man up from school every day, and we get to spend evenings together as a family. I see every school performance, and go on every field trip. And Hubby no longer claims that he's a "blog widower" because I'm on the computer all the time. 😉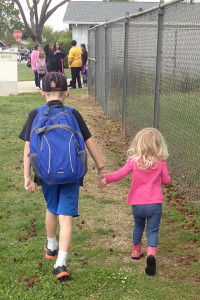 What this means for YOU!
Don't worry! You'll still get all the great time-saving, money-saving, urban homesteading, make-it-don't-buy-it articles that you're used to. Plus I'll share what I'm learning as an entrepreneur and work-at-home mom.
Think you might want to break those corporate chains someday? You can do it!
Here are some books that inspired me:
"Radical Homemakers nationwide speak about empowerment, transformation, happiness, and casting aside the pressures of a consumer culture to live in a world where money loses its power to relationships, independent thought, and creativity. If you ever considered quitting a job to plant tomatoes, read to a child, pursue creative work, can green beans and heal the planet, this is your book."
"We are in the midst of a massive cultural shift away from consumerism and toward a vibrant and very active countermovement that has been thriving on the outskirts for quite some time—do-it-yourselfers who make frugal, homemade living hip are challenging the notion that true wealth has anything to do with money. In Making It, Coyne and Knutzen, who are at the forefront of this movement, provide readers with all the tools they need for this radical shift in home economics."
"Other books tell us how to live the good life—but you might have to win the lottery to do it. Making Home is about improving life with the real people around us and the resources we already have. While encouraging us to be more resilient in the face of hard times, author Sharon Astyk also points out the beauty, grace, and elegance that result, because getting the most out of everything we use is a way of transforming our lives into something much more fulfilling."
By the way:
I was scared to death to tell my parents (at my age!), but they were enthusiastic and proud of my decision. We'll get to spend more time with them now, too. 🙂
If you could leave your job tomorrow, what would you do? Share in the comments!