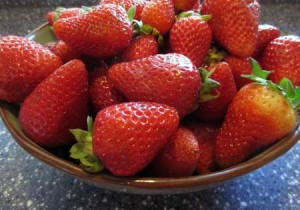 Since I spend a lot of time in the garden, the kids do too. They enjoy playing in the dirt, planting seeds, and petting Neighbor Kitty when he stops by. They also enjoy eating what they've planted and will wander through the garden grazing on this and that. I don't use chemicals, so I don't mind if they eat right off the plants. God made dirt and dirt don't hurt, right?
Here are our top five five vegetables and fruits–they're easy to grow and your kids will love to eat 'em. If your kids are like mine, they'll eat the whole harvest before they get to the house!
Strawberries
These are a universal kid favorite, and are easier to grow than watermelons or canteloupe. You can grow them in the ground or in a container. We like Albion strawberries because they produce all summer and the fruit is large and firm–easy for little hands to find and pick!
Snow peas
Snow peas are J-man's favorite vegetable, and the only way I can get my hands on them is to harvest them while he's at baseball practice. You do need a trellis or something for the vines to climb on. We like Oregon Sugar Pod because they taste great and they usually set doubles (you get two pods per nodule–very efficient!)
Cherry tomatoes
These are a big winner at J-man's school garden. They had a tasting in the lunchroom and the kids gobbled them up! Support them with a cage or stakes, either in the ground or in a container. Supersweet 100 is a yummy variety that the kids munch like candy. You can grow them from seed but I prefer to buy a seedling from the garden center. One plant is enough to feed your family and most of the neighborhood!
Cucumbers
I had no idea there were so many varieties of cucumber until I started buying seeds from Renee's Garden. Eleven types will keep you in cukes for a loooong time. The vines need a trellis or support to climb on. We like "Green Fingers" Persian baby cukes. They're ready to eat at 3 inches long and are fun to put in your lunch.
Potatoes
I've been trying to grow potatoes for years now. They're low maintenance and fun to harvest–you can't beat digging in the dirt! Plus you can grow nifty varieties like purple or fingerling potatoes. Once I solve the planting problem, I'll share the secret with everyone.
Do your kids garden with you? What do they like to grow?
Click photo to Pin it!

This article was shared on Simple Lives Thursday, Frugally Sustainable, Fabulously Frugal Thursday, Unprocessed Fridays, Fat Tuesday, and Wildcrafting Wednesday.