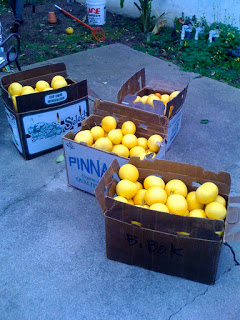 Here in Sacramento, tens of thousands of pounds of fruit falls from trees and rots on the ground–backyard apples, oranges, grapefruit, lemons, and more. Maybe the owners have more than they can eat; maybe they are elderly and can't harvest their trees. Maybe they just moved in and don't like the fruit that's there.
In 2009, Mary McGrath and Robin Aurelius (who coincidentally was my high school computer teacher) were pained by the sight of rotting oranges piled in the streets of East Sacramento every spring. Rather than just shaking their heads and wishing people would do something, they started a grassroots campaign to harvest oranges in the McKinley Park area. With more than 30 volunteers, they harvested and donated about 3,000 pounds of fresh citrus to Sacramento Food Bank and Family Services.
This community effort evolved into Harvest Sacramento, a project of SoilBorn Farms. It's a collaborative effort of area residents, non-profits, community groups and businesses that harvest surplus fruit and vegetables from backyards and small orchards and donate it to local food assistance agencies. I've been volunteering with Harvest Sacramento since late 2009, and I was thrilled when Jackjack asked to help with some harvests this month.
Put a picker pole in the hands of a six-year-old and you'll be amazed at how much work he'll do! He was even using it to pick fruit that was within arms' reach. Picker poles have a wire basket with metal "fingers" that grab the fruit. This keeps the fruit from falling and being damaged.

Our small group visited five houses of people who had surplus fruit to share. (You can register your tree here for future harvests.) We picked oranges, lemons, and grapefruit. Jackjack decided that this orange was bigger than Baby Thumbelina's head.
I was encouraged to see that many of the volunteers were teens from the community. I was one of the (ahem) oldest people in our small group!
One tree can yield a lot of fruit! We filled all the buckets below numerous times. After harvesting, we tally the weight of the fruit and give the homeowner a donation sheet for their taxes.
After just a few short hours, all the small groups reconvened at the park to consolidate the donations. All together, 42 volunteers gleaned 2,785 pounds of fruit for Sacramento Food Bank and Family Services. That's a whole lot of healthy food being put to good use!
Show your support for Harvest Sacramento on Facebook. You'll get the news on upcoming harvests and other efforts to improve food access here in Sacramento.
Not in Sacramento? Find a food bank that welcomes your fresh food donations at FeedingAmerica.org.