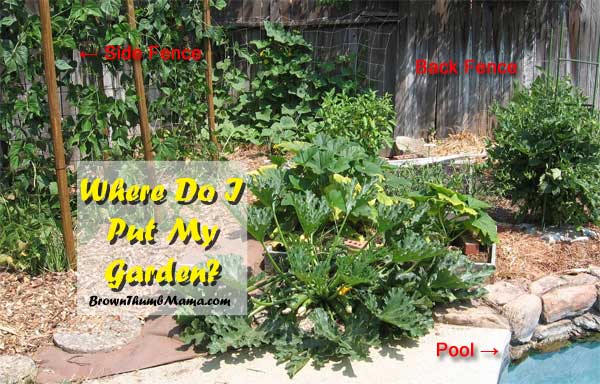 Last summer's garden, tucked in the far corner of the yard. There's a lot going on in this small space!
I hear this question all the time. Friends will start to read about gardening and then become paralyzed by all the decisions they think they have to make! Don't stress. All you need to get started is sun, water, and dirt.
Sun
Yes, plants need lots of sun to grow. But don't despair if your potential garden area has shady spots or doesn't get the "required" six hours of sun each day. A couple of years ago, I planted tomatoes and zucchini in a part sun/part shade location and had great success.
Here are some veggies and herbs that I've had success with in part sun/part shade.
Cilantro
Italian Parsley
Romaine lettuce
Spinach
Thyme
Zucchini

I'm trying potatoes this year, in the partly-sunny corner behind the barbecue.
Naturally, varying amounts of sun call for varying amounts of water. Shady spots may need less than sunny spots, but sticking your finger in the dirt is the best way to find out.
Water
Although I am out in the garden every day, I like to use the automatic drip sprinkler. It waters every day for 5 minutes at a time. I had trouble with overwatering last year, so I'll monitor the plants and increase the time during the summer if needed.
If you don't have an automatic sprinkler, Square Foot Gardening
recommends watering by hand. Fill a large bucket or old Tupperware with water and put a cloth or cover on it. Leaving the water out instead of watering direct from the hose will give the chlorine a chance to evaporate.
Each day or two, give each plant a measuring cup of this nice, sun-warmed water. Doesn't that sound better than a blast from the hose? Plus, you won't wash dirt away from your plant with the force of the hose.
Dirt
And speaking of dirt…there is so much written about soil types and quality that it could make your head spin. My tomatoes and onions are planted directly in the ground, but I do most of my planting in a raised bed or garden box. That way, all my "good" dirt is in one location and I'm only improving the soil that I'm planting in.
My garden box is nearly 24 inches deep, to accommodate the deep-rooted vegetables I've planted like parsnips and spaghetti squash. Last year, I had three very shallow beds (about 6 inches) and my planting options were limited.
There's a lot of dirt in this box, and dirt can be expensive! Since most of the roots will not reach the bottom, I started with a layer of the existing (crummy) garden dirt. On top of that, I layered compost from my bin and some steer manure. Then I purchased several bags of garden soil and mixed them with existing dirt until the box was nearly full.
But…!
That's just the beginning. Tune in next Friday to learn: Why are there strings across the top of my garden box? What are those funny white things with the green beans? And what on earth are those potatoes growing in, anyhow? (Answers here.)