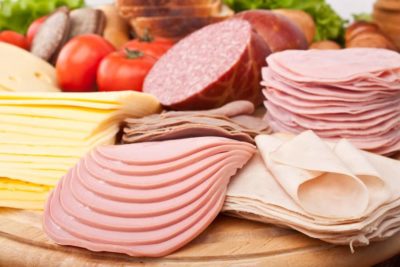 Last weekend, it was HOT. Temps maxed out over 100 and I decided I wasn't going to cook. We dropped by Costco and I grabbed some turkey, ham, and salami. We had sub sandwiches for dinner that night, but it didn't make a dent in the gigantic amount of lunch meat. After all, there's no such thing as a small package from Costco.
I decided to see if I could make a week's worth of dinner recipes with lunch meat–without the family going into revolt.
Here are some dinner ideas using lunch meat. Any of your favorites on this list?
Sunday: Sub sandwiches
Monday: Chef salad with chopped ham and turkey on top
Tuesday: Homemade pizza topped with salami (dough recipe here!)
Wednesday: BrownThumbMama-style Cuban sandwiches (I used tortillas instead of bread)
Thursday: Multi-meat omelettes with garden veggies
Friday: Grilled ham and cheese sandwiches
Believe it or not, the meat is holding up just fine in the fridge–but my brain is out of ideas. Do you ever use lunchmeat for dinner? How do you fix it? Share with us in the comments!