This post may include affiliate links.
If you make a purchase, I'll earn a small fee at no extra cost to you.
This homemade, natural lip balm is ready in minutes and uses just three simple ingredients. Nourish and heal your dry lips with this easy and fast DIY lip balm recipe!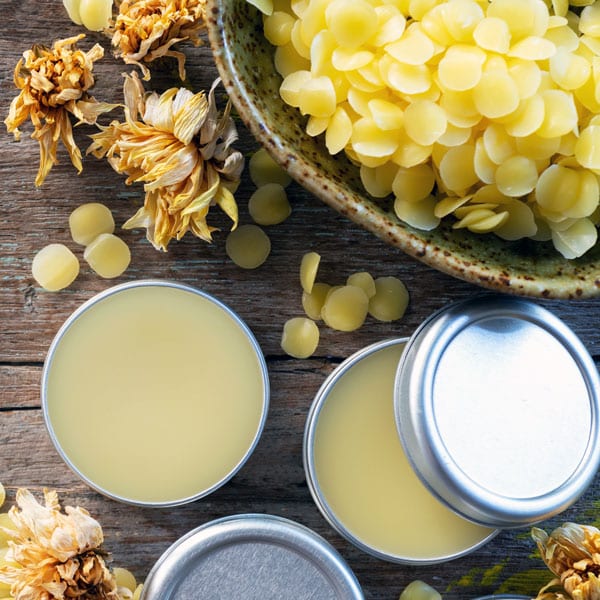 Our family uses a lot of lip balm. Hubby carries a tube in his jeans pocket every day, and I have some in my purse at all times. Our daughter is 9, and shiny, sparkly lip gloss is just about her favorite thing.
However, all the weird ingredients in store-bought lip balms are definitely NOT my favorite thing. Here are the ingredients in Strawberry Chap Stick:

Active Ingredients: WHITE PETROLATUM 45.0%; Inactive Ingredients: ARACHIDYL PROPIONATE, CAMPHOR, CARNAUBA WAX, CETYL ALCOHOL, FRAGRANCE, ISOPROPYL LANOLATE, ISOPROPYL MYRISTATE, LANOLIN, LEMON OIL, LIGHT MINERAL OIL, MALTOL, OCTYLDODECANOL, PARAFFIN, PHENYL TRIMETHICONE, RED 6 LAKE, SACCHARIN, WHITE WAX
Recognize the active ingredient? Petrolatum (which is sold as Vaseline) is made from crude oil, and is an industrial lubricant. While petrolatum does lock in moisture, if your lips are already dry that's not going to do much good.
Instead of slathering your lips with multisyllabic mystery chemicals, let's take a look at the only 3 ingredients you need to make nourishing, natural lip balm.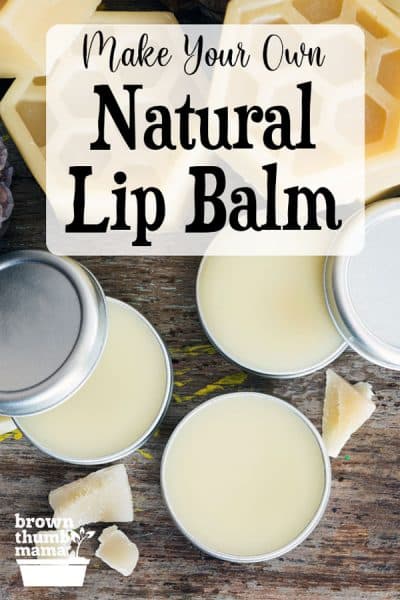 Natural Lip Balm Ingredients
Coconut oil
Coconut oil is moisturizing and has natural healing properties. I don't like the smell of coconut, so I use organic refined coconut oil.
Avocado oil or sweet almond oil
Both of these liquid oils are soothing and moisturizing. I use avocado oil since I already have it in the house for cooking.
Beeswax
Beeswax is the ingredient that solidifies the lip balm and gives it the right "slip" on your lips. I use white beeswax pastilles, which are naturally filtered to remove the golden yellow color.
Optional Ingredients
Castor oil
If you'd like your lip balm to be extra-glossy, replace a bit of the avocado oil with castor oil.
Essential oils
Customize your lip balm with a few drops of a single oil (like Peppermint) or a combination of oils (I like Lemon & Rosemary).
Alkanet or Beet root powder
These natural powders can give your lip balm a bit of color. A bit of Beet root powder will make pink lip balm; Alkanet root plus Beet root will make dark red.
Supplies
2-cup or larger Pyrex measuring cup
Lip balm tubes and funnel kit or Lip balm tins
Labels–I use square labels for lip balm tubes and these round labels for lip balm tins (check the size of your tins first).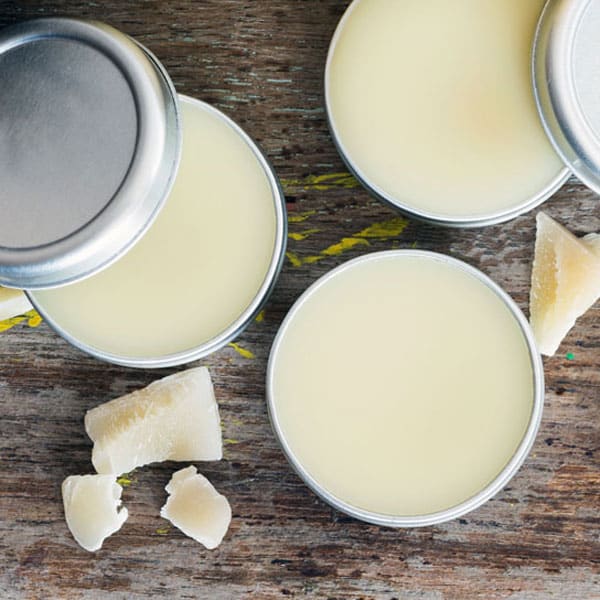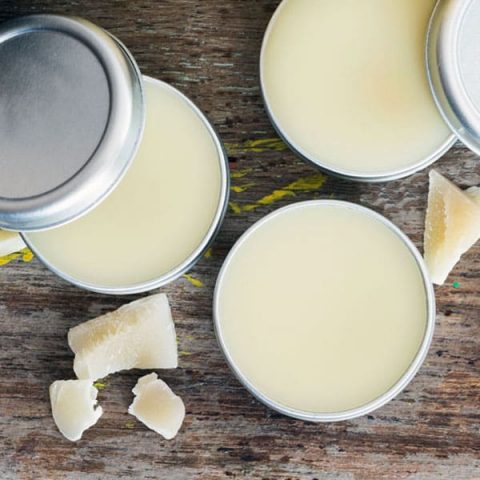 How to Make Lip Balm
Yield:
about 15 tubes or 5 tins
Total Time:
1 hour
10 minutes
This homemade, natural lip balm is ready in minutes and uses just three simple ingredients. Nourish and heal your dry lips with this easy and fast DIY lip balm recipe!
Instructions
Prep your lip balm tubes or tins on a tray or paper towel.
Place the coconut oil, avocado oil, and beeswax in a Pyrex measuring cup.
Microwave for 30 seconds and stir. Repeat, stirring every time, until the beeswax is completely melted.
Add essential oils or color powders, if using, and stir in thoroughly.
Pour into tubes or tins and allow to cool for about an hour.
Label and enjoy!
Notes
For glossy lip balm, replace the avocado oil with 1 Tablespoon of avocado oil and ½ teaspoon of castor oil.
Use a little more beeswax if you prefer a thicker lip balm, or slightly less if you prefer a softer lip balm.
Before filling the tubes or tins, you can re-melt the lip balm and adjust ingredients until you get the exact texture you want.
Recommended Products
As an Amazon Associate and member of other affiliate programs, I earn from qualifying purchases.