This post may include affiliate links.
If you make a purchase, I'll earn a small fee at no extra cost to you.
It's easy to freeze garlic for later use in your favorite recipes. Freeze garlic in bulk with these tips and save time in the kitchen!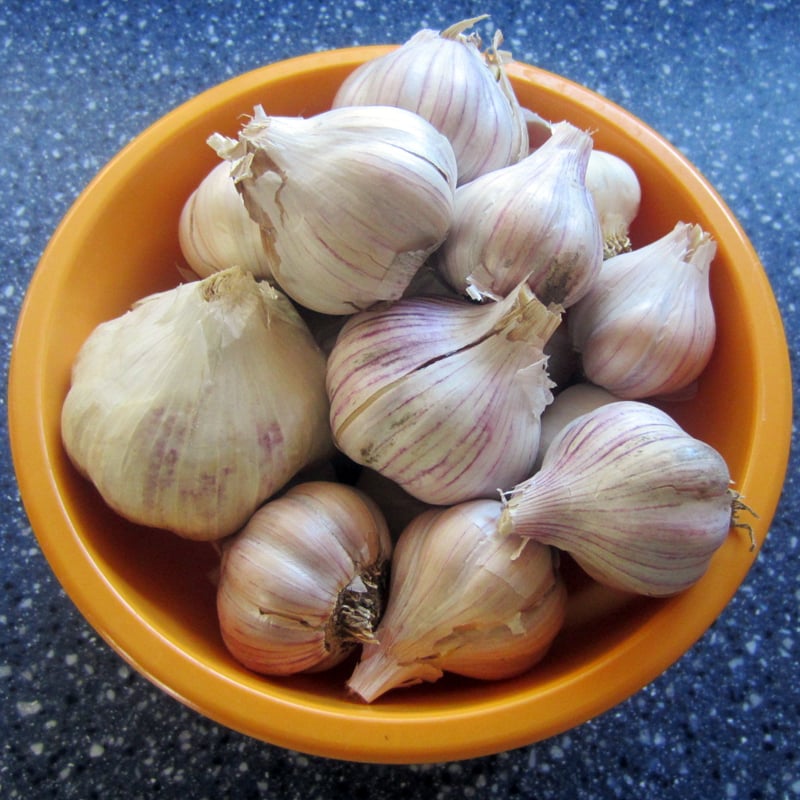 Congratulations! You've successfully planted your garlic crop and had a bountiful harvest. (Or maybe you just went to Costco and bought a giant 5-pound bag of garlic.)
Now you have more garlic than you know what to do with, but you want to use it before it begins to sprout.
Good news! It's easy to preserve fresh garlic by freezing it. Then you can use it in stir-fry, soups, Instant Pot recipes--just about anything you can think of. Let's get started.
How to Freeze Garlic
Ingredients and tools:
Garlic
Olive oil
Choppermajigger (I use this one), optional
Large mason jar for peeling, optional
Instructions:
Step 1. Peel massive amounts of garlic. The fastest way to do this is to separate the cloves and place them into a large mason jar. Put on the lid and shake, shake, shake. Warning: this will cause your husband and children to dissolve into hysterical laughter--but it really works!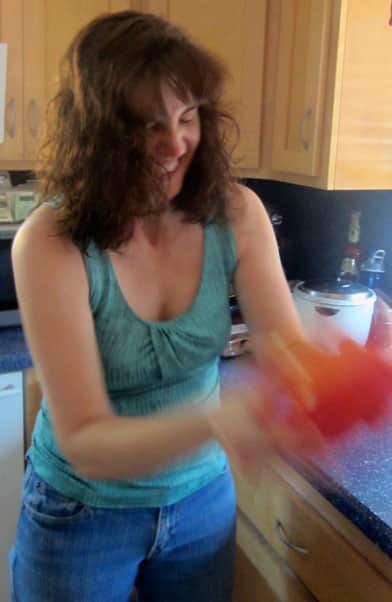 Step 2. Put peeled cloves into your choppermajigger (Small Helper Child optional) and pulse until garlic is the desired texture. I left mine at a fine dice, since you can always make it smaller but ya can't make it bigger.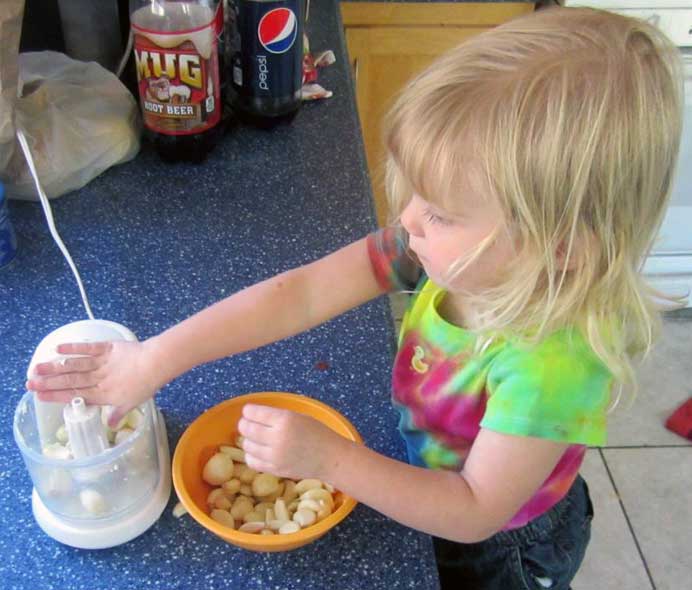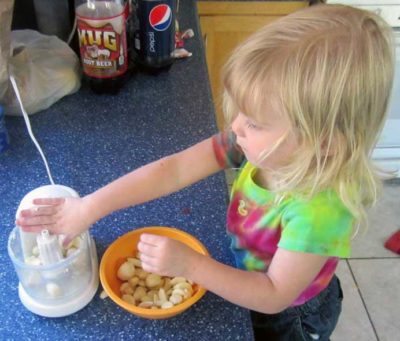 Step 3. Scoop the garlic into a bowl, add olive oil, and stir gently. Use a little less than 2 tablespoons of oil for each cup of chopped garlic. More oil is not better, as we'll see in Step 4.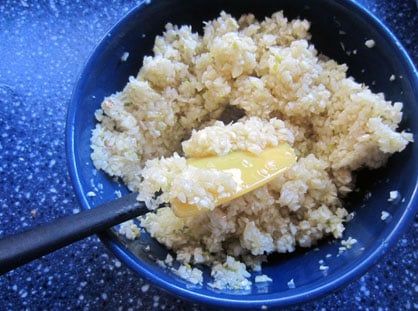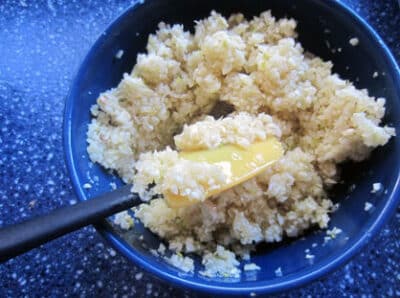 Step 4. Using a tablespoon or regular spoon, plop scoops of garlic onto a cookie sheet lined with parchment paper or a Silpat. You can see that the first scoops are better formed and the ones at the end look pretty sloppy. This is because there's too much olive oil left in the bowl and the garlic doesn't keep its shape as well.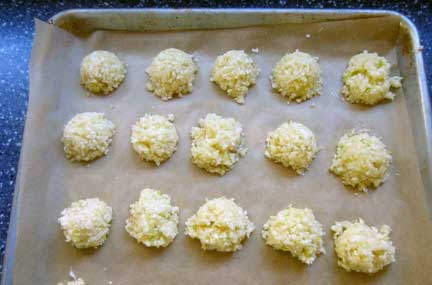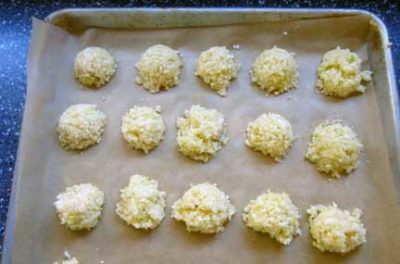 Step 5. Put the cookie sheet in the freezer. Send Hubby to the freezer for ice cream and see what he says when he finds the garlic. Just kidding about that part. 😉
Step 6. After a few hours, your garlic will be frozen into tidy little pucks. Place them in a zip bag and store in the freezer. A 1-Tablespoon scoop is roughly equivalent to 3 cloves of garlic.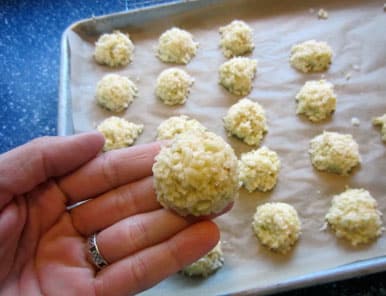 Step 7. Optional, based on the continued presence of Small Helper Child: get all the pieces of garlic "paper" off the counter, floor, clothes, face, and hair of said child. Thank her for helping, and send her on her way.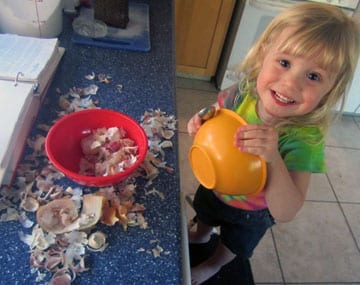 Read more about Growing Garlic

Detox Your Kitchen in 5 Days
Remove hidden toxins in your kitchen with these easy tips and recipes!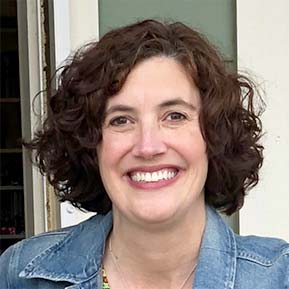 Hi, I'm Pam! I created Brown Thumb Mama to share my natural living journey, and help you live a greener life. Thanks for being here, and please check out the resources in my Natural Living Shop!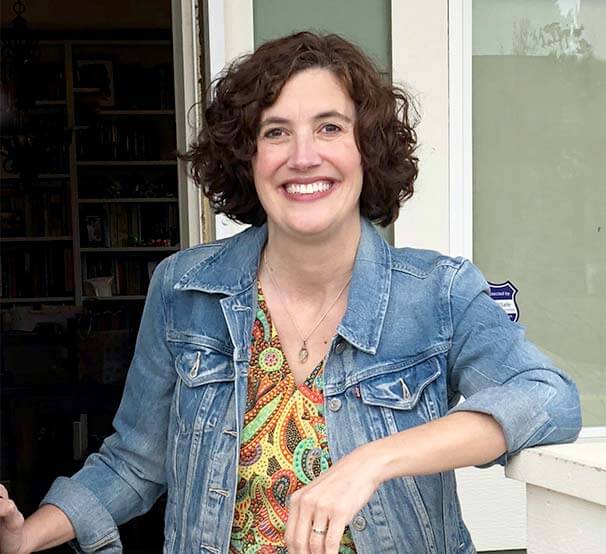 Hi, I'm Pam!
I created Brown Thumb Mama to share my natural living journey and help you live a greener life. Thanks for being here! Learn more about me.