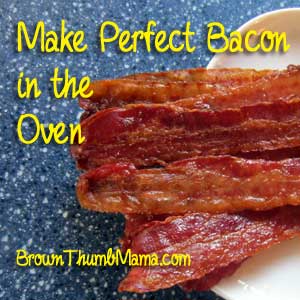 We love to have breakfast for dinner (B4D). Pancakes and oatmeal-cinnamon waffles are frugal and easy to make, and the kids get a kick out of "eating backwards."
Bacon is a critical component of B4D, but I don't like to cook it on the stove with the kids around. The grease pops and splatters, and you have to watch it like a hawk to be sure it doesn't burn.
Since I'm emphatically unwilling to give up bacon until the kids are 18, I set about to find a different way to cook it. The oven is perfect for this! It sounds weird to say you're "baking your bacon" but it works great.
You will need:
A rimmed cookie sheet (I have this one)
A wire rack that fits in the cookie sheet (like this one)
Bacon!
Turn your oven to 400F. Place the wire rack on top of the cookie sheet and lay the bacon out with a little space between each slice. That will allow the warm air in the oven to circulate and cook the bacon evenly.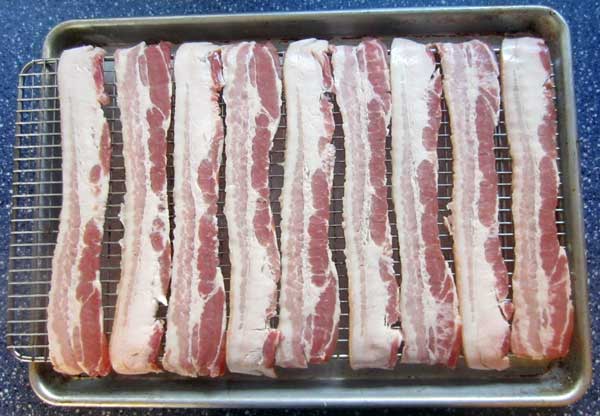 Place the cookie sheet in the oven on the top rack and set the timer for 15 minutes. After 15 minutes, take the bacon out and check it. You can turn it over if you like (I always do, although with the wire rack it's not strictly necessary). Here's how mine looked–definitely making progress but nowhere near done.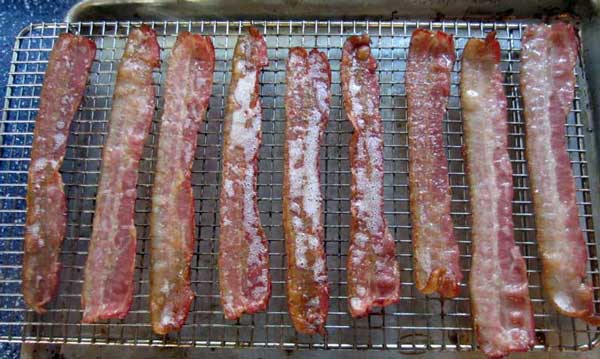 Put the bacon back in the oven and set the timer for 10 minutes. After that, the bacon will either be underdone (back in the oven and check every 3 minutes) or ready to serve. My bacon cooked for a total of 30 minutes…we like crispy bacon 'round these parts.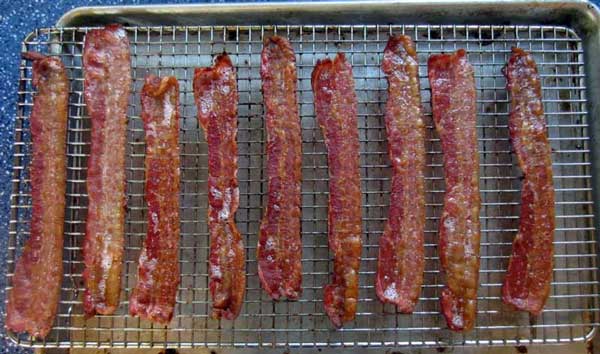 The slices lift off the rack easily and are ready to serve. Pour the bacon fat into a jar for later–nothing's better than fried chicken cooked in bacon fat!