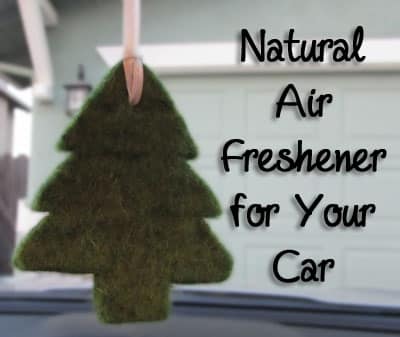 I splurged last week and took the Mommymobile to a nice car wash place by my work. It was great to have a clean car, but they sprayed some horrible air "freshener" inside that instantly gave me a headache.
Considering that the EPA acknowledges that air fresheners contain formaldehyde, petroleum distillates, p- dichlorobenzene, and aerosol propellants, I have no idea what I was breathing. ICK!
After driving around for the rest of the day with all the windows open, it was time for  "make it, don't buy it" mode. After some experiments, I figured out the perfect way to make a natural car air freshener that rivals those stinky trees at the auto-parts store.
You will need:
Wool felt (this looks like craft felt, but is thicker and sturdier). I got mine at a local craft store, but you can also buy it on Amazon.
Essential oil(s) of your choice. Buy premium essential oils here.
Lay the felt out and cut out as many shapes as you want. I chose the tree and made a few different ones for the rest of the family.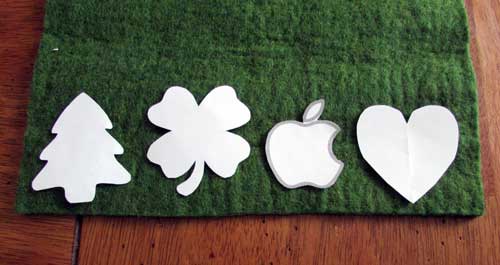 Put a total of 10-12 drops of essential oil(s) on your air freshener. Here are some of my favorite scents:
Flower garden: Roman Chamomile, Clary Sage, Geranium, Lavender
Manly-man blend: White Fir, Cypress, Wintergreen
Spicy holiday blend: Cinnamon, Rosemary, Wild Orange
Long drive ahead blend: Wild Orange, Peppermint
Guys' favorite blend: Cedarwood, Lime, Balance
Single oils: Lavender, Wild Orange, Lemon
Run some thread or a ribbon through the felt and you have an air freshener for the car, Baby's bedroom, the bathroom, or even your desk at work!
A friend of mine put the Focus Blend on a little piece of felt to help her son stay calm and focused in school. Whenever he's having a rough day, he pulls it out of his pocket, takes a breath, and nobody is the wiser.
The best part? Each one cost less than 50 cents to make. My lungs and my wallet can breathe easy with this project!
What scent will you use?