Instant Pot Beef & Onion Soup
This post may include affiliate links.
If you make a purchase, I'll earn a small fee at no extra cost to you.
This delicious soup is similar to French Onion Soup--the addition of beef chuck makes it extra hearty and flavorful. It's ready in minutes thanks to the Instant Pot!
I got an Instant Pot last year and absolutely fell in love with it. It's an electric pressure cooker, and it's a busy mom's dream.
Since it's electric, you don't have to watch it and adjust the pressure. It has safety features that lock the lid, and the outside stays relatively cool while cooking. The insert comes out and is easy to wash.
And check out these amazing cooking times!
Brown rice: 45 minutes on stove; 22 minutes in Instant Pot
Chuck roast: 3-4 hours in oven; 50 minutes in Instant Pot
Refried beans: 6 hours in crock pot; 10 minutes in Instant Pot
I've been Insta-potting everything lately. Is that even a word? It is now. 😉
And it's absolutely perfect for making soup in a flash, like this hearty beef-and-onion soup. Serve with a salad and homemade French bread and you have a complete meal!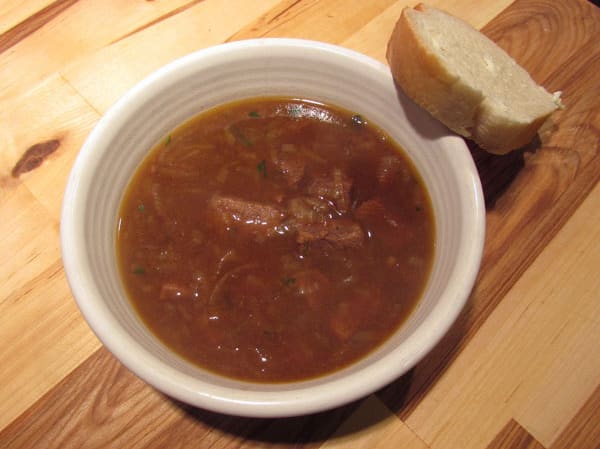 Tools Used to Make Instant Pot Beef & Onion Soup
Instant Pot: this electric pressure cooker makes soup super fast and delicious
Mandolin slicer: this device helps you get evenly sliced onions
Instant Pot Beef & Onion Soup Recipe
adapted from The Great Big Pressure Cooker Book
Ingredients
For the caramelized onions:
2 Tablespoons butter
1 Tablespoon olive oil
4 large yellow onions, sliced thinly (see Kitchen Tips below)
1 Tablespoon chopped fresh thyme
3 Tablespoons cognac (or water)
For the soup:
2 pounds chuck roast, cubed and dusted with flour
1 Tablespoon olive oil
4 cups beef broth
2 cups chicken broth
1 teaspoon salt
½ teaspoon black pepper
1 Tablespoon cornstarch
¼ cup chopped fresh parsley
Caramelize the onions
Turn the Instant Pot to Saute, and add the butter and olive oil. Once melted, add the sliced onions. Stir gently, every few minutes, until they soften and collapse. Add the thyme and cognac and stir almost constantly until the onions are a deep caramel-brown color. Scrape the onions and liquid into a bowl and set aside.
Make the soup
Keep the Instant Pot on Saute, and add the olive oil. Put the chuck roast cubes in, a handful at a time. Let them sizzle and get brown on all sides, then remove and do the next handful. Browning the meat gives your soup extra flavor and depth.
Once all the meat is browned, put the meat, onions, broth, salt, and pepper in the Instant Pot. Lock the lid and make sure the valve is set to "Sealing."
Use the Manual setting to cook at high pressure for 15 minutes. Then click "Cancel" and turn the valve to "Venting." Stand back! This will give you a big fountain of steam. The soup will be molten hot and probably still bubbling.
Mix the cornstarch with a tablespoon of water until you get a smooth liquid. Then stir it into the soup to thicken it. Stir in the fresh parsley and you're ready to serve.
Kitchen Tips
Get perfectly even onions by using a mandolin slicer. Cut the onion down the middle, almost to the root, and then stick the root-end to the hand guard. You'll have perfectly thin little half-moons that will cook down and melt in your mouth.
Caramelizing the onions can take up to an hour, so you'll save time if you have Crockpot Caramelized Onions in your freezer!
I combine beef broth and chicken broth in the soup to round out the flavors. Beef broth alone sometimes leaves a metallic taste.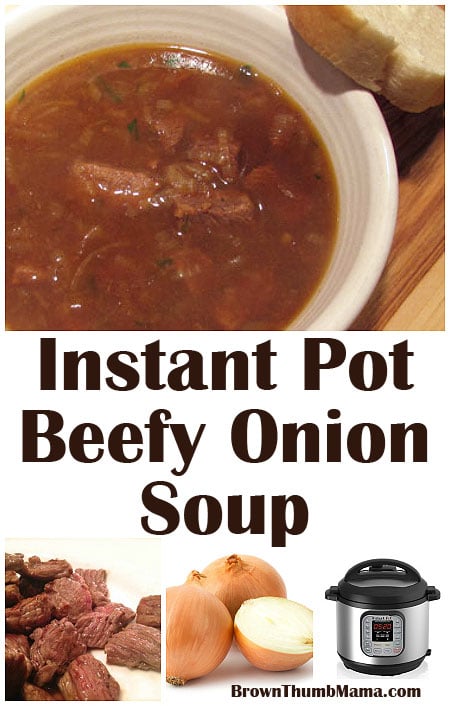 Save
Detox Your Kitchen in 5 Days
Remove hidden toxins in your kitchen with these easy tips and recipes!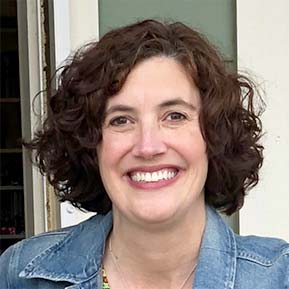 Hi, I'm Pam! I created Brown Thumb Mama to share my natural living journey, and help you live a greener life. Thanks for being here, and please check out the resources in my Natural Living Shop!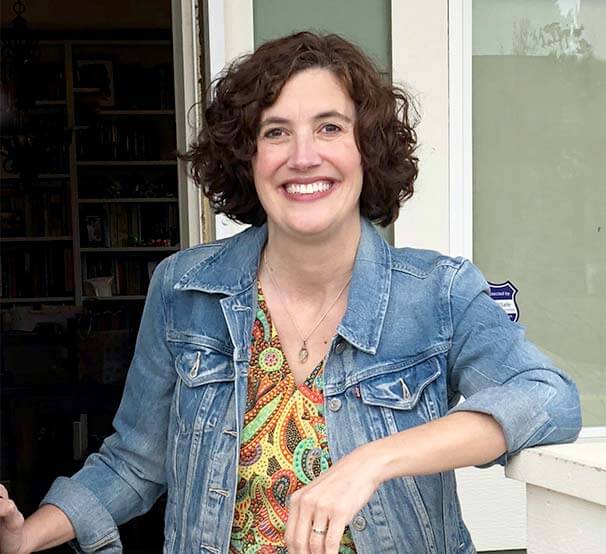 Hi, I'm Pam!
I created Brown Thumb Mama to share my natural living journey and help you live a greener life. Thanks for being here! Learn more about me.