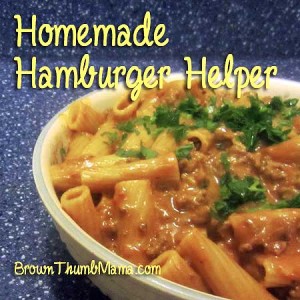 Back when Papa and I were newlyweds, our grocery budget was $25 a week. Because things like Rice-a-Roni and Hamburger Helper seemed cheap (and we didn't know any better), we ate a lot of "foods" that we wouldn't touch now.
In a fit of nostalgia, I picked up a box of Cheeseburger Helper the last time I went to the store. Does this ingredient list seem a bit excessive and chemical-laden to anybody else?


Now check out this real food ingredient list for Cheeseburger Helper. Doesn't it sound better?
Ground beef
Salt and pepper
Onion
Garlic
Tomato sauce
Mustard
Pasta
Cheddar cheese
Homemade Cheeseburger Helper is just one of the amazing recipes in Better Than A Box, which is my new favorite cookbook. It has over 200 pages of tutorials and recipes that show how to transform the processed food recipes we grew up with into real food recipes.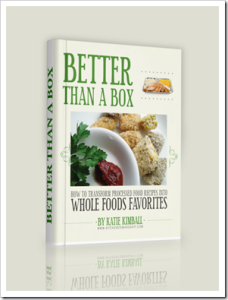 Homemade is easier and tastier than the boxed stuff. Check it out!
Homemade Cheeseburger Helper
1 lb. ground beef
½ tsp. salt
1 tsp. black pepper
1 clove minced garlic (or ¼ tsp. garlic powder)
½ onion, chopped fine (or 2-3 tsp. onion flakes)
1 ¼ c. tomato sauce
1+ tablespoon yellow mustard
1 ¾ cups water
2 ½ cups short pasta, any shape (I used rigatoni)
2 cups shredded sharp cheddar cheese
Brown the beef in a large skillet with the salt, pepper, garlic, and onion. Drain the fat and add the tomato sauce and mustard, stirring gently. Add the pasta and water, and bring to a boil.
Reduce heat to low, and cover and simmer for 12-15 minutes until the pasta is cooked. Turn off the heat, stir in the cheese, and serve. Deeeee-licious!
What's that? You want more healthy recipes?
Better Than A Box is the cookbook for you! The first 100 pages teach you how to reverse-engineer recipes yourself, and the remaining 100+ pages are transformed recipes for favorites like:
Chicken Rice-a-Roni Substitute
Grandma's Tuna Noodle Casserole
Real Food Beef Stroganoff
Spicy Cheesy Chicken Dip
Homemade French Onion Dip
Bisquick Substitute
Homemade Wheat Thin Style Crackers
Stovetop Stuffing Substitute
Homemade Sausage Seasoning
Not-so-Tough Beef Jerky
Macaroni and Cheese
Velveeta Cheese Substitute/Creamy Cheese Sauce
Homemade Mayonnaise
Ranch Dressing Mix
Seasoned Salt and Dip Blends
Homemade Barbecue Sauce
Instant Pudding
If you aren't hungry by now, have your taste buds checked! Then check out Better Than A Box and make your tummy happy.