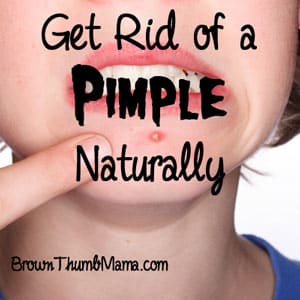 For most of us, the teenage years were filled with all kinds of angst…not the least of which was caused by a bad breakout right before a dance, school pictures, or the like.
While I didn't have acne as bad as many of my friends did, it sure was a pain. We would use Sea Breeze, Oxy 10, and all kinds of strong chemicals that would dry out our skin in the hopes of preventing zits. Now, thinking about rubbing all those chemicals on my face makes me cringe!
And guess what–there's some magic (sarcasm) in being over 40 that causes the acne to come back. Sigh. At least now I know a lot about natural remedies so I don't have to use those funky chemicals.
Here are my 6 favorite ways to zap those zits once and for all:
Eat Healthy and Drink Water
Boring, I know, but it's good for your body in so many ways. When we went on backpacking trips in high school, our skin cleared up in no time–because there's no room for sodas and junk food when you're carrying everything on your back. As soon as we went back to the sodas and french fries in the school cafeteria, our skin would break out again. Remember this the next time you're tempted by an afternoon snack at the coffee shop across the street.
Apple Cider Vinegar
ACV is just plain amazing. In addition to soothing sunburns, it's a great skin toner. Mix with a bit of water if you have sensitive skin, swab on the offending area, and allow to dry. I use Bragg Apple Cider Vinegar because it's organic, raw, and unfiltered. All the good stuff is still in it.
Coconut Oil
Sounds weird, huh? Fighting oil with oil?!? But coconut oil is antibacterial and antifungal, and when your skin is dry it fights back by making MORE oil. A couple of drops of Melaleuca essential oil increases the coconut oil's antibacterial power.
Mud
But not just any mud–Redmond Hydrating Clay. This natural bentonite clay gently helps "draw" the pimple out. A dab will do ya! Leave it on for 15-20 minutes and then gently rinse with warm water.
Witch Hazel
Another natural astringent, witch hazel helps soothe inflammation and redness. You can also use it to make Natural Insect Repellent and Homemade Hand Sanitizer. I use this brand and am able to find it locally.
Lavender Essential Oil
This one is my favorite–just put a drop of lavender essential oil directly on the pimple and you're done! (Only use lavender "straight" like this with adults, not kids.) Too bad I didn't know about this in high school. The scent of lavender is soothing, and would have really helped us when were stressed out about zits.
Know any other tips for natural zit zapping? Please share!