You can grow asparagus in your home garden! This tender, delicious vegetable regrows every Spring–so you can plant once and enjoy it for years.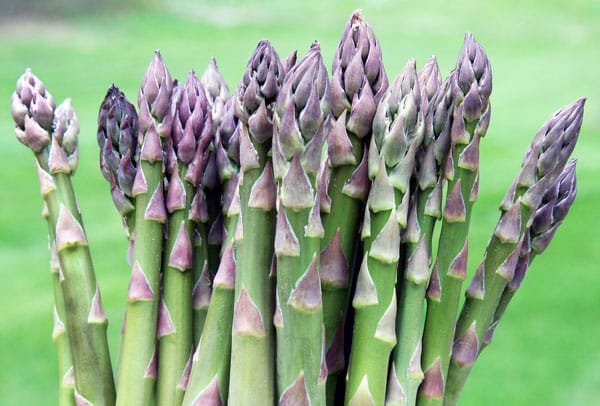 To me, the first signs of Spring are picking homegrown snow peas and finding fresh asparagus at the farmer's market. I love to add asparagus to omelettes, stir-fry, or pasta salad. It's delicious grilled, steamed, stir-fried, even pickled.
Asparagus is easy to grow, but it does take some patience. It's a perennial, which means it grows back every year without replanting. You won't be able to harvest your asparagus until the second year after you plant. But when you do–oh boy, are those fresh and tender spears amazing. And they'll keep producing for 20+ years!
Here's everything you need to know to grow asparagus in your garden.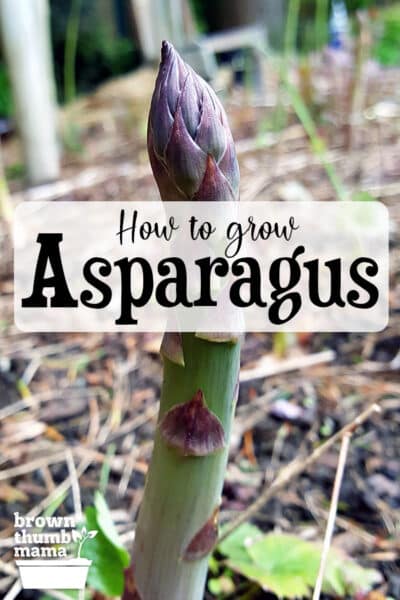 Varieties
There are two types of asparagus: all-male varieties like Jersey Giant, Jersey Supreme and Jersey Knight; or male/female varieties like Mary Washington. The all-male types can produce more spears, but the male/female plants can potentially make seeds and multiply.
I get my asparagus crowns from the good folks at Renee's Garden. If you'd rather shop local, check with your garden center (not the big-box store) for the best variety of asparagus to grow in your area. If you have a choice, I recommend the all-male types. You'll want about 10 plants per asparagus-eater in your family.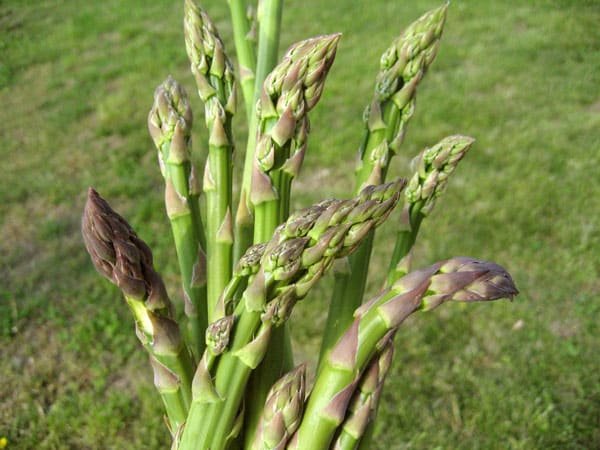 Sun, Water, Soil
Asparagus likes it sunny! Pick a spot that gets at least 8 hours of sun. Remember that asparagus regrows every year, so your planting site will be completely devoted to this tasty veggie.
Adequate water is important for asparagus, and so is good drainage. If the soil is too soggy and doesn't drain well, the roots will rot and your plants won't produce. This is one of the reasons I grow it in a raised bed. Of course you want to give a good soak after planting, and then water 1-2 inches per week.
Asparagus is picky about soil. It won't tolerate any weeds, and likes lots of nutrients mixed in, like homemade compost or natural fertilizer. This is another reason to grow asparagus in a raised bed–you can control the soil and don't have any weeds to worry about.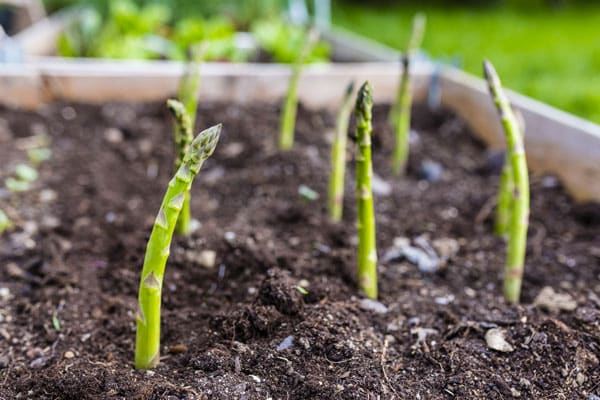 Planting & Spacing
While you can grow asparagus from seed, it's much easier to grow it from roots, called crowns. These are typically available at your local garden center during planting season. Here in Zone 9, that's December or January.
The roots look like this when they come out of the package. Each crown, or root bundle, is connected at the top and then the roots grow off of that.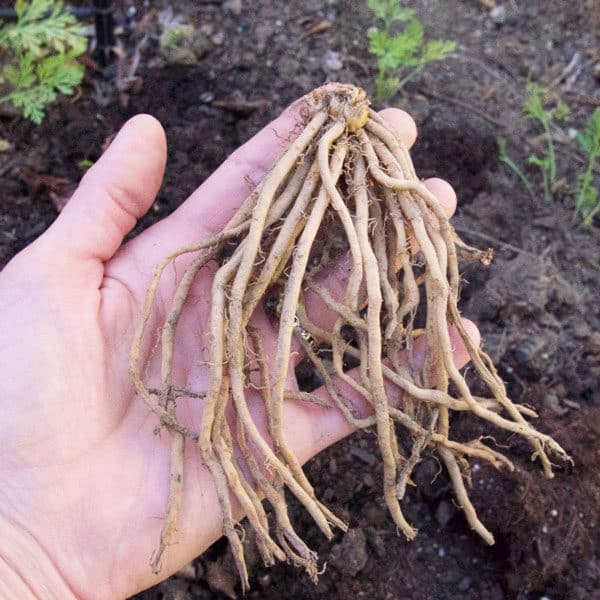 Once you've decided on your permanent planting area, it's time to prepare the soil. Ensure there are no weeds and till the soil so it's loose and easy to work with. Mix in your compost and a bit of EB Stone Sure Start.
Dig a trench about 12 inches deep–remember, we're planting roots, so they're getting their start underground. About every 18 inches, use your hands to make a little hill of soil in the trench (see arrow).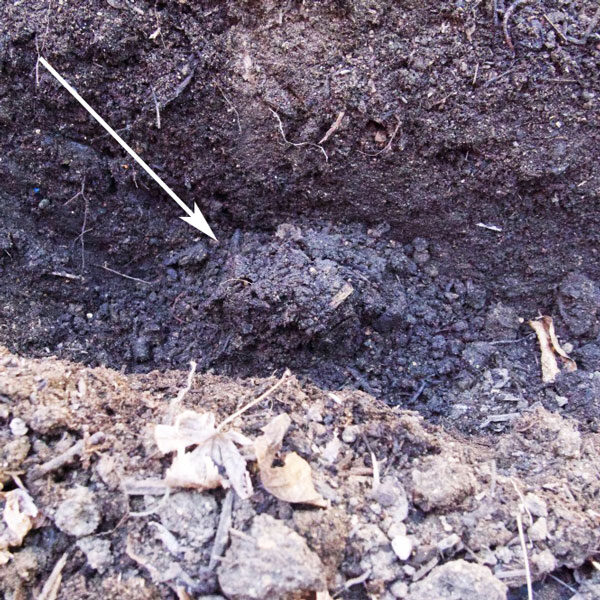 Once you've made all your hills, take one root bundle at a time and drape the roots over the top of the hill.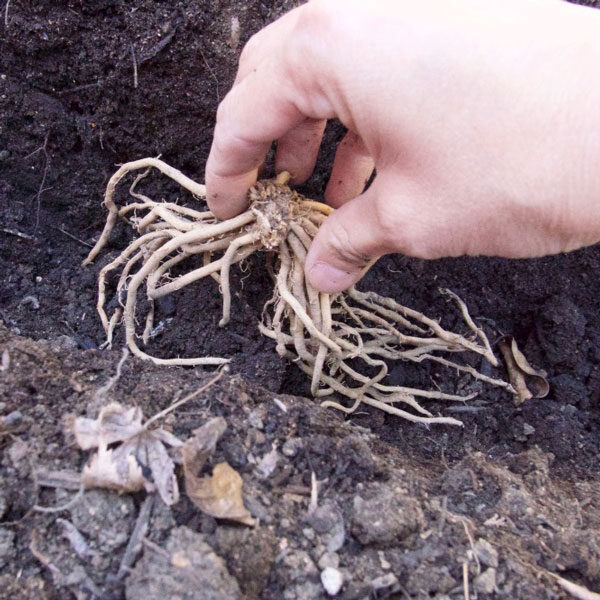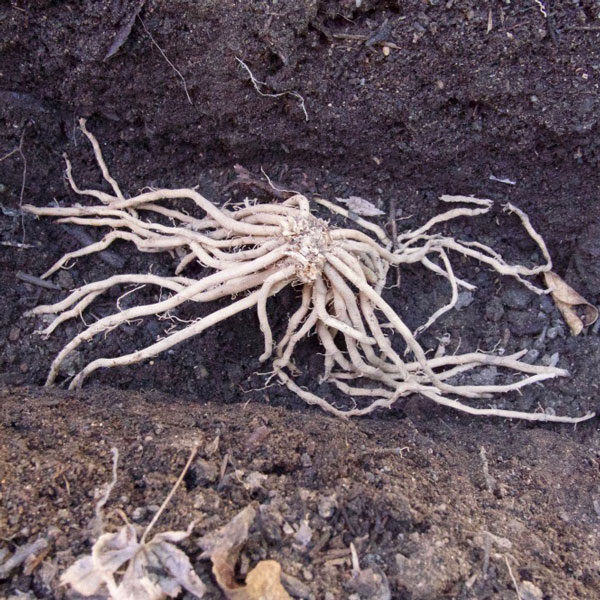 Then fill in the soil just to the top of the crowns (don't bury the roots under lots of soil). You can see by the position of my hand that the trench is still quite deep. Give your asparagus crowns a good drink of water immediately after planting.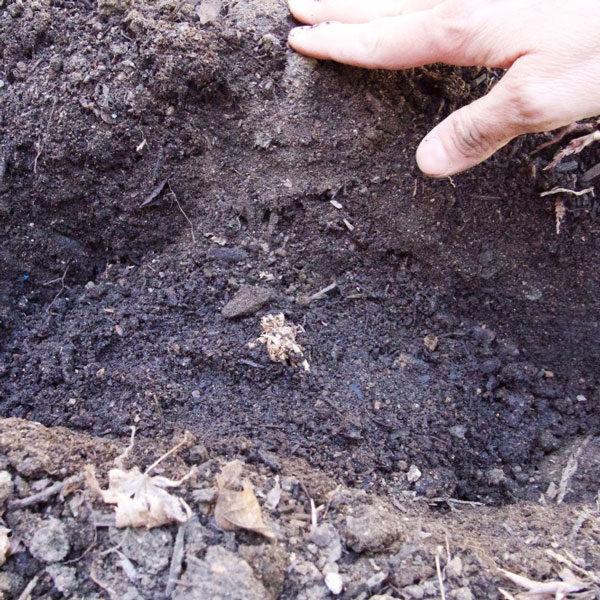 The teeny asparagus spears will start to pop out of the soil in about 10 days. Fill in the trench, a little at a time, until the soil is level again.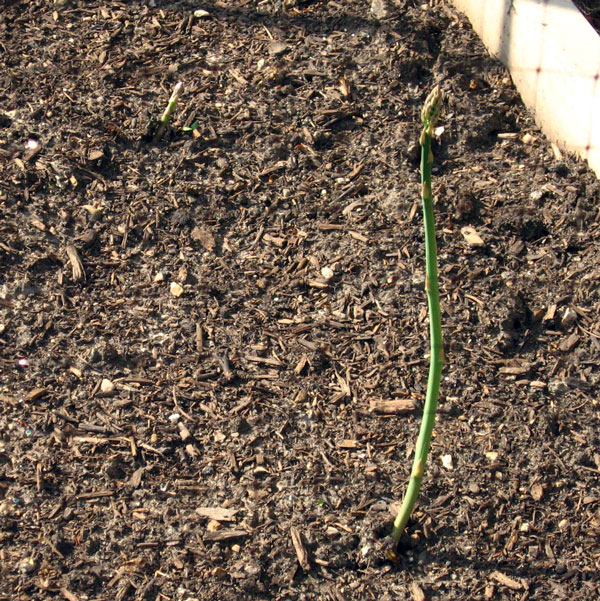 Remember to weed your asparagus patch carefully and thoroughly. I like to use a CobraHead Mini because you can dig out the weed without disturbing the asparagus. Some people like to mulch with straw, but I seem to end up with more weeds that way because the straw has seeds mixed in.
Once established, your asparagus plants will send up new spears every few days for about a month in the spring (see Harvest Timeline below).
Pests, Diseases, Companion Plants
There are a lot of critters and diseases who like asparagus. Here are some things to watch out for:
Asparagus Beetles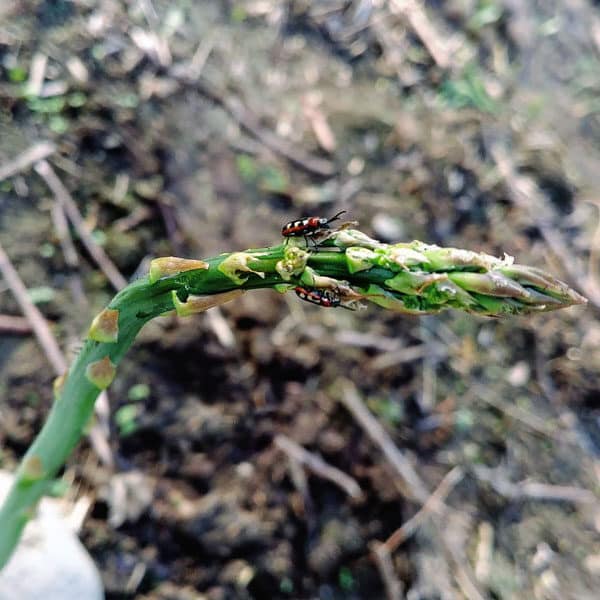 Asparagus beetles look like elongated ladybugs. They feed on the asparagus spears, causing scarring and the spears bend into a hook shape.
Your best bet is to look for these in the afternoon, when they're most active. Hand pick and drop into a dish of soapy water. If you're dealing with a heavy infestation, spray them with neem oil.
Slugs
Slugs also like to munch on asparagus spears, and can do a considerable amount of damage. You can hand-pick slugs, use one of these lantern beer traps, or surround the asparagus bed with copper gardening tape.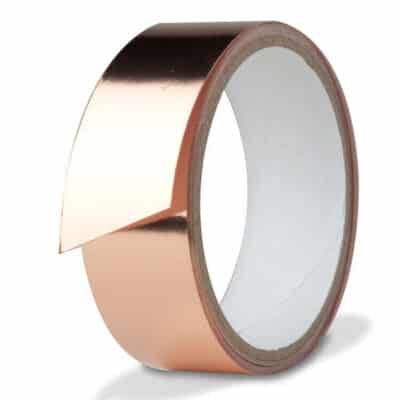 Diseases
Asparagus can be susceptible to certain diseases, including rust, fusarium wilt, fusarium stem and crown rot. These are all fungal diseases, so it's important to have good soil (another vote for raised bed gardening) and correct water levels. You can also buy varieties like Jersey Knight that are resistant to these diseases.
Harvest Timeline
1st year after planting: don't harvest this season. The spears will be tiny, about the size of a pencil lead. Allow the spears to grow and bloom into their fernlike mature state. Cut the ferns down in the fall and add compost between the rows.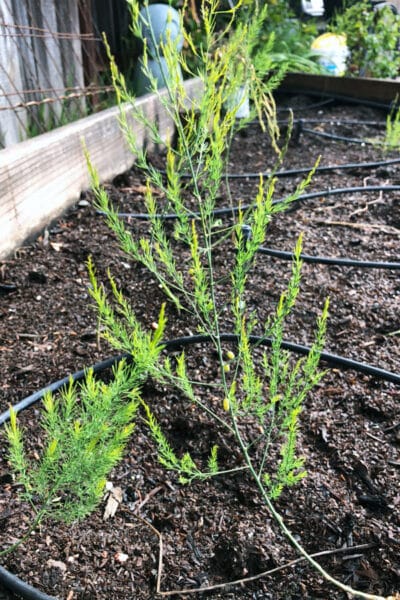 2nd year after planting: harvest for 3-4 weeks only (see below for instructions). This allows the plant to grow stronger and store up energy for next year. Allow the spears to grow and bloom into their fernlike mature state. Cut the ferns down in the fall and add compost between the rows.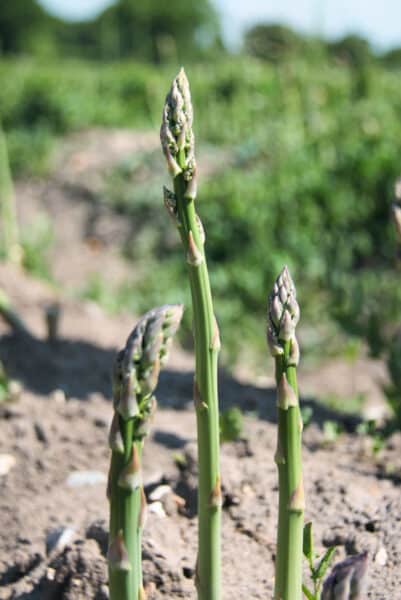 3rd year after planting: your asparagus is fully established! Harvest for about 8 weeks, then allow the remaining spears to fern out. Cut the ferns down in the fall and add compost between the rows.
How and When to Harvest
Harvest asparagus spears when they are between 8-10 inches high and between ½ and ¾ inches thick. You can cut them with a knife or snap them off at ground level. Be sure not to damage neighboring spears when harvesting.
If the buds at the top of the stalk are opening, like this, the spear will be too tough to eat. Harvest more frequently–you may need to pick a few spears every 2-3 days until you have enough for your recipe.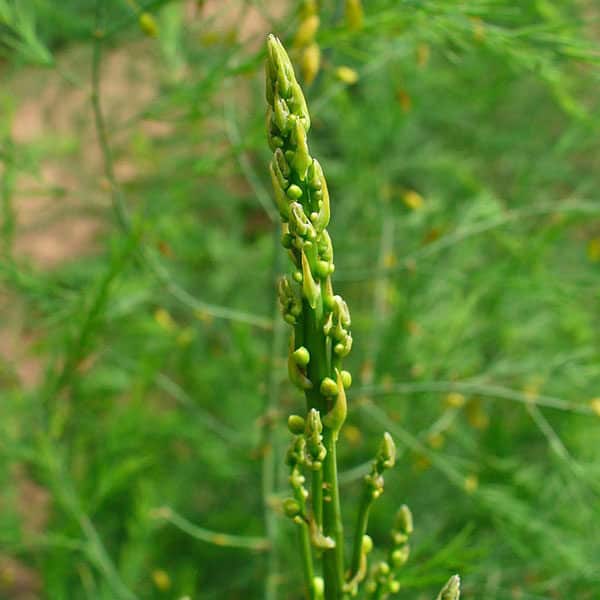 Stop harvesting when the spears are the thickness of a pencil. Leave these spears grow so the roots can gain nutrients for the next year.
Each year, your asparagus will be more productive, with a longer harvest window. Some asparagus beds produce for more than 20 years!