An easy way to eat healthy is to grow your own vegetables, and it's easier than you think! We grow veggies in our front and back yards all year long.
It's especially nice to go in the yard after work and pick veggies for dinner.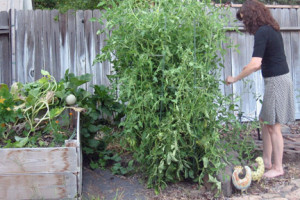 Some of my gardening skills came from my Grandpa and Dad, but most came through trial and error. Here are some things I've learned that can help you and your garden.
Before Planting
Make your own seed starting light
Homemade seed tape for correct plant spacing
Planting
Start A Vegetable Garden for $25
5 best container veggies for beginning gardeners
Mulching the garden with straw
Vegetables and Fruits Kids Love to Grow (and Eat!)
Troubleshooting
Hired killers: bugs in your garden
What's wrong with my vegetable garden? (book review)
Harvest
When to harvest spaghetti squash
How to dry herbs without a dehydrator
In the Off-Season
Mulching the garden with straw
Replacing the lawn with a garden