Note: I'm not a doctor and this is not to be construed as medical advice. I'm just a mom explaining what has worked for my family. Do your own research and use your own good judgement.
Little Peanut is a strawberry-eating machine. She'll sit in the garden and eat strawberries as fast as she can pick them. When she got little red dots around her mouth last summer, we thought she might have a strawberry allergy. Have you ever tried to tell an 18-month-old that she can't eat her favorite food? It was a disaster.
We kept her away from the garden for a week. No strawberries at all. And yet, the dots didn't go away. We were already using a natural soap, but we switched to a different one just in case.
They didn't seem to itch, but they spread to her cheeks and forehead. She didn't have a fever or any other symptoms, and we were perplexed. I didn't want her sweet baby skin to be damaged or scarred by the bumps!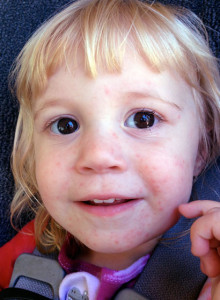 The doctor said she had contact dermatitis. We could put hydrocortisone cream on her face (ummm, no thanks). If that didn't help, we could try an oral steroid (definitely No Thanks).
Complete strangers asked what was wrong with her. Did she have chicken pox? No, it's not the chicken pox. Yes, she is vaccinated. It's just dermatitis. Then they felt obligated to give me treatment advice. (This was a lesson for me in extending kindness!)
Some of the suggestions we received:
Rub antibacterial soap on her skin and leave it there until it dries. Rejected because we don't use antibacterial soap, and who wants dried soap on their baby's skin?
Eliminate all wheat products and all dairy products. We would do it if clearly necessary, but…no milk?!?
Eat raw potatoes. Not likely for an 18-month-old.
What did we do? We washed her face several times a day with extra-gentle castile soap. Then we rubbed a gentle lavender tincture on the bumps and let it absorb into her skin.
The result? You can see it for yourself. They started disappearing within days: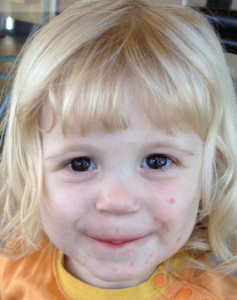 Within 10 days, the dermatitis was completely gone. It's amazing what natural remedies can do!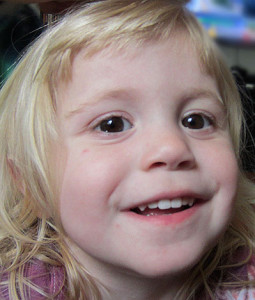 What are your family's trusted natural remedies? Share with us in the comments!