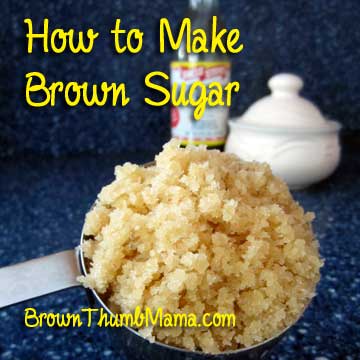 Around here, a lot of DIY kitchen projects start like this (read in "whiny internal monologue voice"):
Awww crap, we're out of ______ (insert item here).
I don't want to load the kids in the car and go to the store for just one thing.
There's gotta be a way I can make it myself.
Tortillas and pie crusts have magically appeared in this fashion. Last weekend, a similar situation arose when I was out of brown sugar.
What the heck? I thought (read in "confident kitchen DIY voice"). Brown sugar is just white sugar with molasses added, so why not just make it myself?
It couldn't be easier. In a large mixing bowl, add 1 tablespoon of molasses for each cup of sugar.

Zip it with your mixer until all the molasses is incorporated.

It will start to look like a lumpy disaster.

Don't give up! Keep mixing until the lumps are gone. If it's too light, add another tablespoon of molasses.

How cool is that? You've made brown sugar!

What's your favorite kitchen DIY? Share with us in the comments!
Save