Spring is in the air! And so is tree pollen, grass, weeds, and all kinds of stuff that causes seasonal allergies.
It's easy to spot those who are suffering because they'll spontaneously burst into sneezes and have itchy, watery eyes from an allergy attack. That can really ruin your day (not to mention your makeup).
How do allergy attacks happen?
If your body identifies pollen, pet dander, mold, or other allergens as a threat, histamines are released so the white blood cells can take down the invader.
The problem is that those histamines cause an immediate inflammatory response. Your eyes itch, sinuses drain, nose runs…you know how it goes.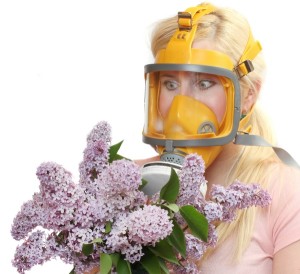 Synthetic medicines for allergies are called antihistamines, because they prevent the body's response to the histamine release. They can cause drowsiness, dry mouth, and stomach problems, and they're most effective when taken before symptoms hit.
So how do you keep the histamine reaction away, without wearing a gas mask or medicating yourself all the time and feeling miserable?
Prevent allergy attacks naturally!
All you need to stop an allergy attack are these three natural, pure essential oils. When used together, they support healthy respiratory function and relief from seasonal discomfort.
Lavender essential oil is soothing and provides immune support
Lemon essential oil thins mucus and helps flush out the yuck
Peppermint essential oil opens up capillaries and airways
Usage
It's easy to use these oils to stop allergies in their tracks. Because essential oils are assimilated into the body quickly, you can reapply within several hours, or as needed.
Aromatically: mix one drop of each in your hand. Rub hands together, cup over your nose and mouth, and inhale. You can also use one of these cool nasal inhaler gizmos (useful for kids who can't have oils at school).
Topically: combine one drop of each in your hand. Rub on the back of the neck and on temples, avoiding eye area.
Internally: take 1-2 drops each in 1/4 cup of water, or in a spoonful of local honey
Yes, the kids can use this oil combo too! Rub along their back or on the soles of their feet in the morning and before bed.
If the whole family has problems with seasonal discomfort, diffuse Lemon, Lavender, and Peppermint to give everyone relief. You can learn more about diffusing essential oils in my book of diffuser blends.
Let's Get Started!
It's easy to get these oils into your home and enjoy fast relief from seasonal threats. Learn how to get premium doTERRA essential oils and be a healer in your home.

---
Want to learn more about essential oils and natural health? Check out my favorite resource: The Herbs & Essential Oils Super Bundle. With 22 eBooks, 4 ecourses, 6 printable packs, and 2 membership sites, The Herbs & Essential Oils Super Bundle makes it easy to keep your family healthy, naturally.