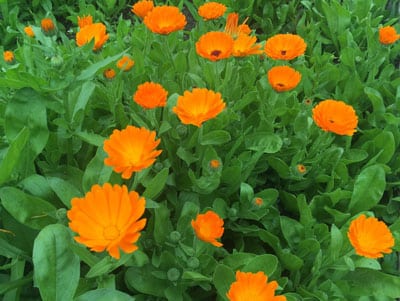 Aren't these flowers beautiful? They are Calendula officinalis, also called pot marigold. Besides being easy to grow, bringing color to my veggie garden, and attracting bees, calendula has been used medicinally for hundreds of years.
The German Health Authority has approved calendula for treating wounds, based on research showing its anti-inflammatory effects and antibacterial qualities. It's gentle enough to use on babies and pets.
You know where I'm going with this, right? Sounds like a great ingredient for homemade healing salves and lotions!
You don't want to just throw some flowers into your lotion bottle, though. If we allow the calendula to steep in a carrier oil, the beneficial properties will transfer to the oil and that's much easier to use in herbal remedies. This process of steeping is called an infusion.
Here's how to make calendula-infused oil.
You'll want to use dried flowers for this recipe. Either dry your own, or you can get excellent-quality dried calendula from my friends at Mountain Rose Herbs.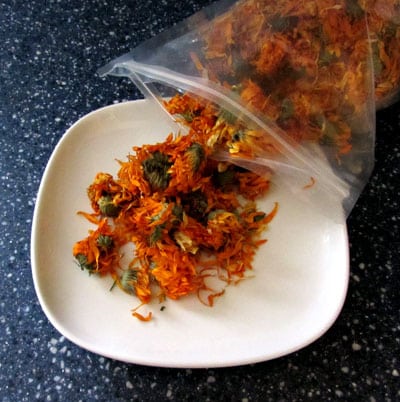 Get a clean and dry canning jar, and fill it about halfway with the dried flowers. Then add organic olive oil or sweet almond oil until the flowers are covered and the jar is nearly full.
Cover and store in a cool, dark corner of your kitchen (it can sit next to your homemade vanilla) for 4-5 weeks. Gently shake the jar about once a week.
After a few weeks, the oil will turn a lovely golden color.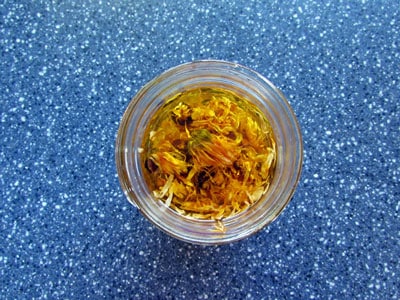 Strain out the flowers and put them on the compost pile. Put the calendula-infused oil into a dark jar and label it.
What can you use this oil for?
Use it instead of sweet almond oil in Natural First Aid Cream
Dab a bit onto a bug bite or skin rash
Turn Homemade Lip Balm into a healing lip balm by replacing the olive oil with calendula oil
Mix with coconut oil and (gently!) pat on Baby's diaper rash
How will you use your calendula-infused oil?