This post may include affiliate links.
If you make a purchase, I'll earn a small fee at no extra cost to you.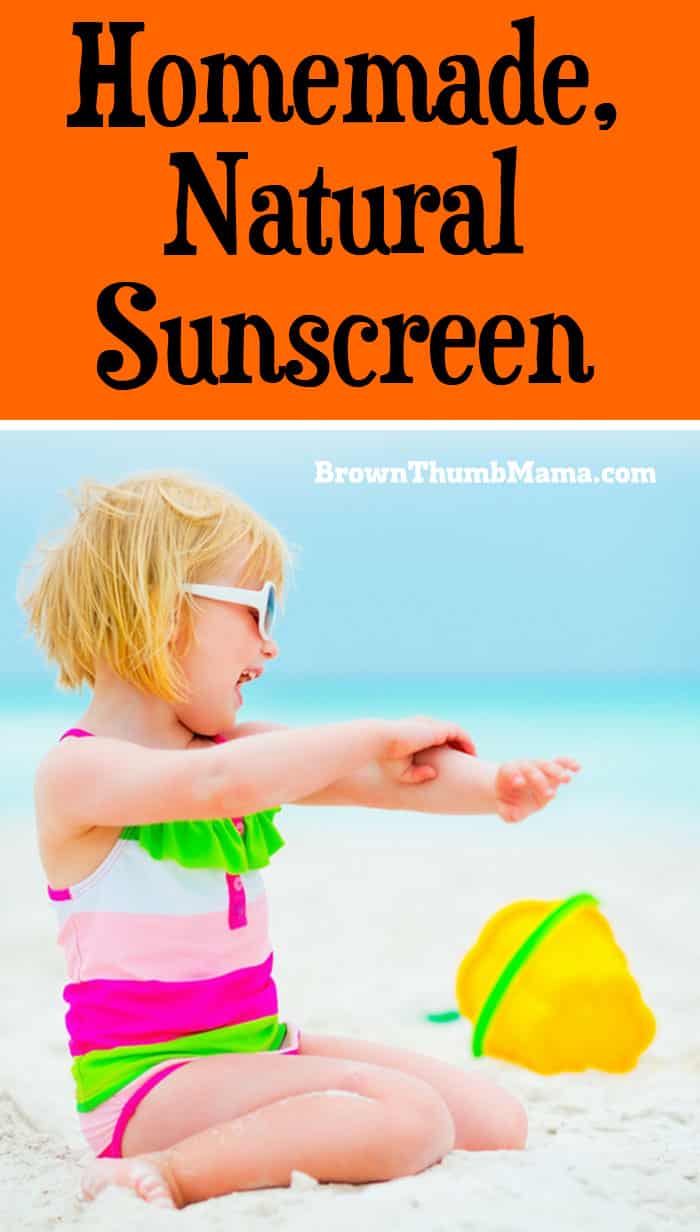 I never thought of making homemade sunscreen, until I learned what's in the store-bought kind.
Check the label on yours–it's probably full of mystery chemicals and potentially harmful ingredients. I hate seeing people spray and rub all that junk on themselves and their kids!
Here's an example: Coppertone Water Babies. Should be safe for kids, right? It even says "babies" right on the label. Unfortunately, the answer to that is "no."
According to the researchers at Environmental Working Group, here are some of the health concerns for one of its active ingredients, oxybenzone:
Enhanced skin absorption
Biochemical or cellular level changes
Allergies/immunotoxicity
Endocrine disruption
Persistence and bioaccumulation
Developmental/reproductive toxicity
Organ system toxicity (non-reproductive)
Not exactly a list of things you want happening to your body, am I right? Another active ingredient is propylparaben. Here are some of the concerns with that:
Use restrictions
Allergies/immunotoxicity
Endocrine disruption
Developmental/reproductive toxicity
Ecotoxicology
And that's just two of the active ingredients. Gross, huh? That's when I decided to do some research and experiment with different recipes. Here's an easy recipe for homemade, natural sunscreen that's safe for everyone–babies, kids, and adults.
Homemade Natural Sunscreen
Great news. It's easy to make your own natural sunscreen with four safe ingredients. This sunscreen is water-resistant and works really well (even on those of us who usually burn instead of tan). It leaves a slight white residue, but I like that because it's easy to tell if the kids have applied it thoroughly.
Ingredients:
¼ cup beeswax pastilles (I like these)
¼ cup coconut oil
¼ cup non-nano zinc oxide powder (buy it here)
½ cup olive oil
Instructions:
In a measuring cup or other heatproof container, mix the zinc oxide powder and olive oil until smooth.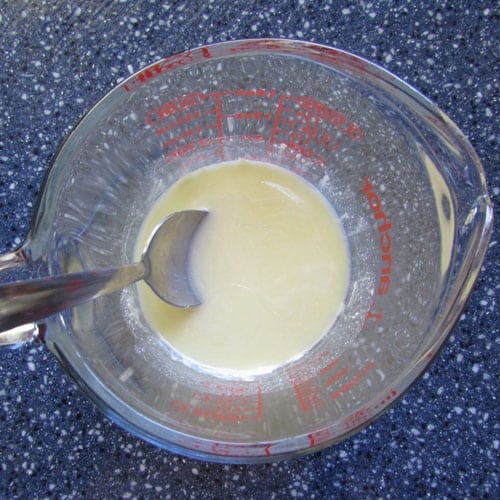 Add the beeswax and coconut oil, and heat gently until the beeswax is melted. I use a makeshift double-boiler for this. When the beeswax is melted and everything is incorporated, your sunscreen will be a thin, milky consistency.
Allow to cool and store in a recycled pump bottle (an old liquid soap dispenser is great)!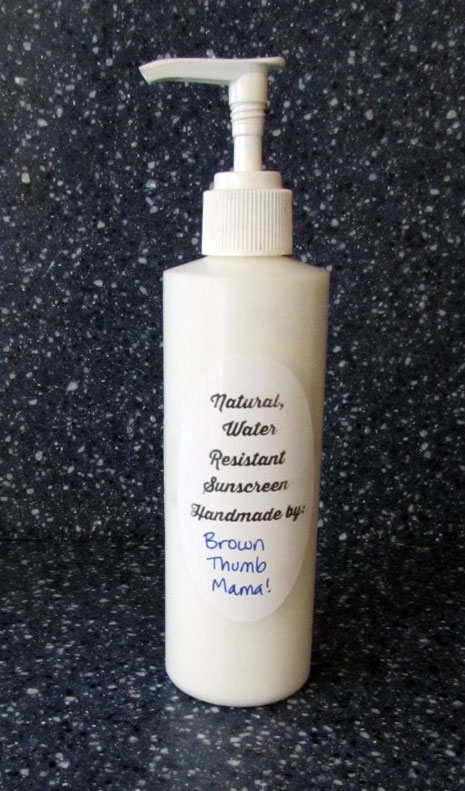 Because this is natural sunscreen, it behaves a little differently than the chemical kind. When we're outside in the sun, it's regular sunscreen texture. If we store the bottle in the house, the beeswax firms up and it's thicker. If you find your natural sunscreen is too thick to squeeze out of the bottle, let it sit it in the sun for a few minutes to soften.
Why These Ingredients?
Beeswax provides protection against irritants while still allowing the skin to breathe. It also offers anti-inflammatory, antibacterial and antiviral benefits.
Coconut oil is anti-inflammatory, antioxidant, antibacterial and hydrating. It's primarily composed of saturated fats and contains medium-chain fatty acids, which help to repair and hydrate the skin.
Olive oil is high in Vitamin E, packed with anti-aging antioxidants, and has a high inherent SPF.
Zinc oxide is unique among sunscreen ingredients because it's truly a broad-spectrum blocker, protecting from UVA, UVB, and even UVC. You don't want to inhale it, so measure carefully and/or cover your mouth while pouring it.
Need a better sunscreen but not feeling DIY?
Here's my favorite store brand.