Let me explain up front why I needed to make this from scratch: I don't like raisins. Maybe it's a texture thing; I don't really mind their flavor. But they certainly don't belong in my bagels, my oatmeal cookies, or in my cinnamon swirl bread.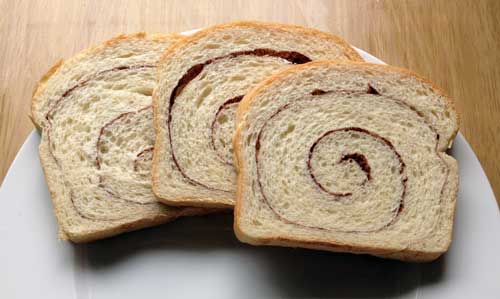 If you feel differently–well, I understand. I certainly seem to be the odd man out on the cinnamon-raisin bread issue. If you must, knead a cup of raisins into the dough after the first rise.
Once you've made your own cinnamon bread, you won't want to go back to the expensive store-bought stuff ever again.
Cinnamon swirl bread is delicious toasted with a bit of butter and a cup of tea, and it's amazing when made into French Toast. Make a PB&J for the kids with it! Try it–your tummy and taste buds will thank you.
Homemade Cinnamon Bread
Ingredients
1 egg
1 cup water
4 Tablespoons melted butter
1/4 cup sugar or honey
1.5 teaspoons salt
4 cups bread flour
2 teaspoons yeast
cinnamon sugar
Instructions
Place everything except the cinnamon sugar in your mixer, or bread machine set to "dough."
If using a mixer, knead for 8-9 minutes. Put the dough in a clean bowl, cover with a damp cloth, and let rise until doubled. This can take from 30-60 minutes, depending on the temperature in your house.
Remove the dough from the bread machine or bowl and divide into two loaves. On a lightly floured surface, stretch each piece of dough into a rectangle the same width as your loaf pan and as long as you can get it. The longer the rectangle, the more swirls in your bread!
Sprinkle the cinnamon sugar over the dough, making sure it reaches all the way to the edges. You can see I got a little carried away in the upper left corner–just brush the excess around with your fingers until all the empty spots are filled.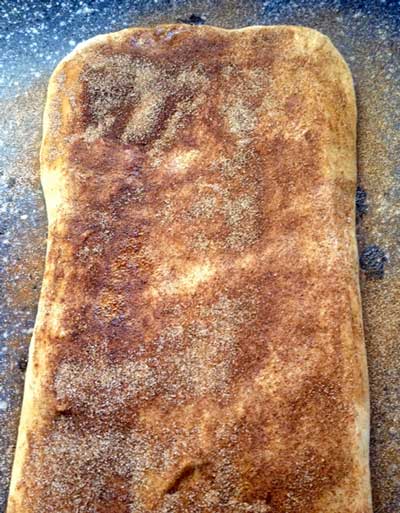 Then starting at the end nearest you, roll up the dough like a jelly roll. Pinch the dough together to seal the seam and place it in a lightly greased loaf pan with the seam side down. Repeat with the second piece of dough.
Cover your loaves with a damp cloth, and let rise again for 30-60 minutes.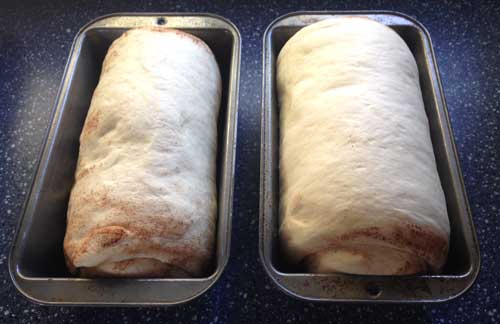 Bake the bread at 350F for 35-40 minutes. When finished, remove the loaves from the pans and let them cool on a wire rack. Enjoy your cinnamon bread!
What's your vote on the raisins–yes or no?