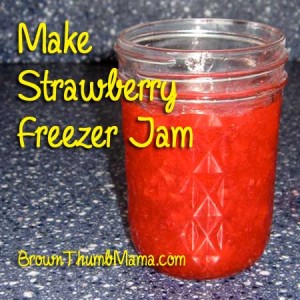 The best place to get strawberries is at a little roadside stand. They're fresh, local, and amazingly good. They actually taste like strawberries, unlike the little red golf balls you get at the grocery store.
Jackjack and I picked up a whole bunch of strawberries recently to make freezer jam. Freezer jam doesn't have to be cooked and canned, so it's easier to do with a little one around.
The ingredients:

Strawberries (we'll end up with 2 cups mashed)
2T lemon juice
4c sugar
1 package pectin
Wash your strawberries and cut off the tops. Wash some more because they get eaten as quickly as they are washed.

Get the potato masher from the back of the junk drawer and clean it. Prep your noble assistant for strawberry-smashing duty. Wash the potato masher again since it touched his nose.

Mash the strawberries, a little at a time, until you have two cups.

Add in the lemon juice and let your assistant pour the sugar. Don't touch the measuring cup or he will remind you that he is FOUR and can do it All By Himself. Then mix it all together thoroughly.

Add the pectin into 3/4 cup water and bring to a full boil. Boil, stirring constantly, until it becomes clear (about 3 minutes).

Add the hot pectin into the strawberries and stir, stir, stir.

Pour the mixture into clear jars, leaving 1/2 inch at the top. This will allow for expansion when it freezes. Wipe off the edges of the jars and put the lids on snugly.

Cool in the fridge for at least 24 hours, and store in the freezer until you're ready to eat. We recommend serving it on English Muffin Bread!