This post may include affiliate links.
If you make a purchase, I'll earn a small fee at no extra cost to you.
Spoil your family with this easy Strawberry Freezer Jam! Preserve the delicious sweetness of summer strawberries with this quick recipe that doesn't need to be cooked or canned.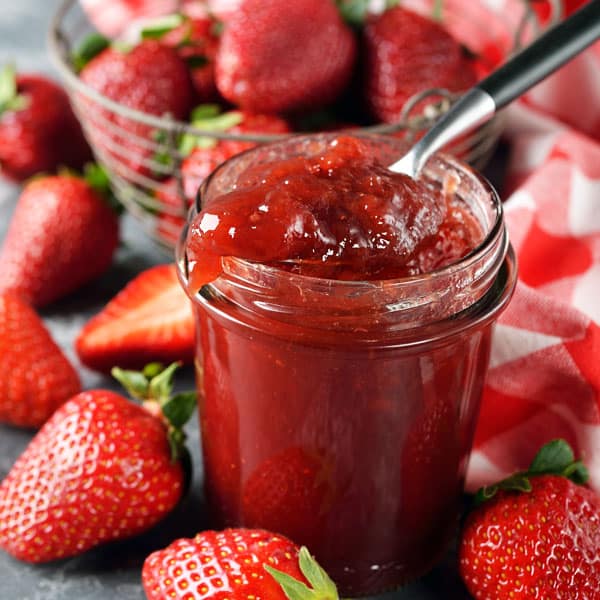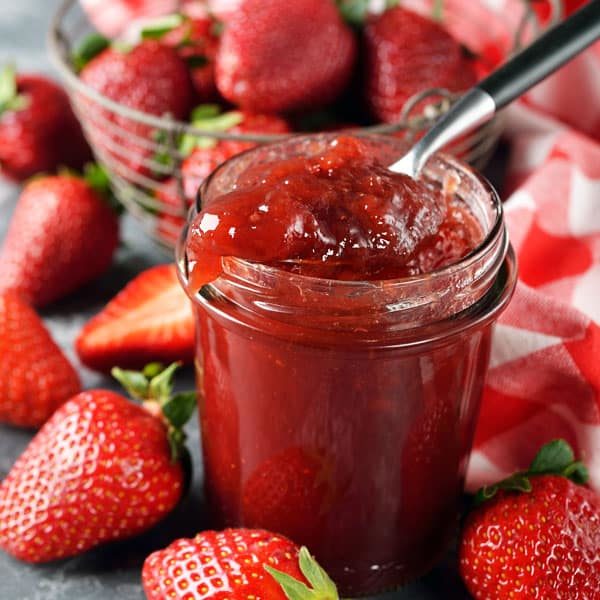 We are harvesting lots of strawberries from our front yard garden this year. Are you growing strawberries? They're one of the best plants to grow with kids. If you haven't grown them before, see how easy it is to grow great strawberries.
Just like tomatoes, fresh strawberries from your garden or a local farmer are bursting with delicious sweetness that's so much better than the strawberries at the store.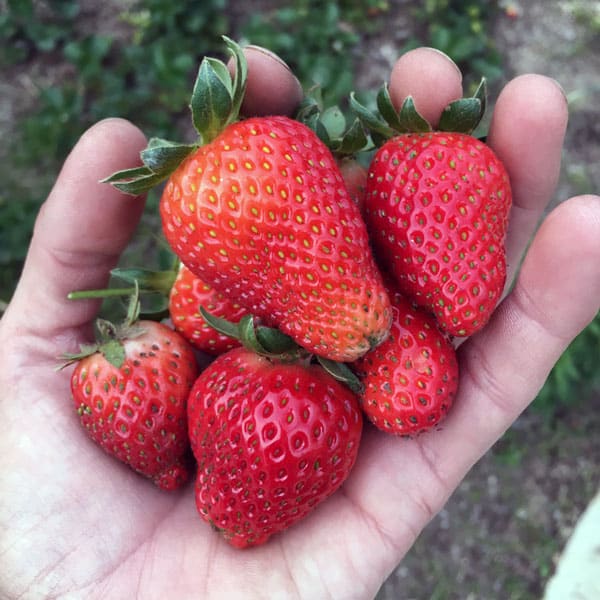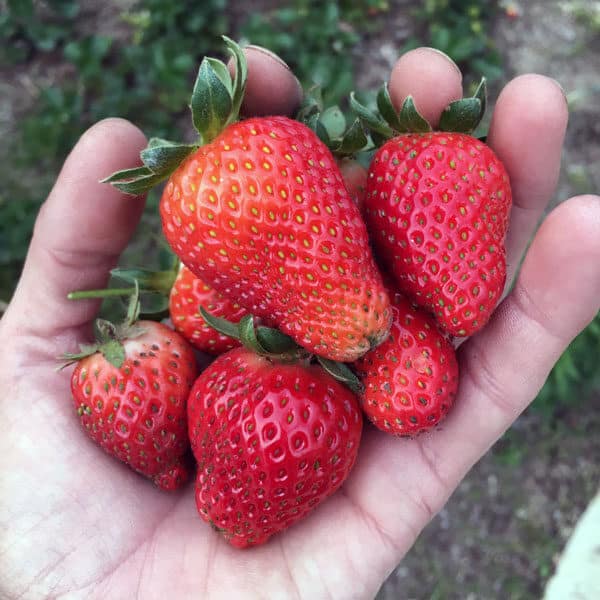 We love eating homegrown strawberries as a snack, for dessert, and any time of the day with strawberry freezer jam.
You can make this quick and delicious jam in just 20 minutes. It's delicious on toasted English Muffin Bread!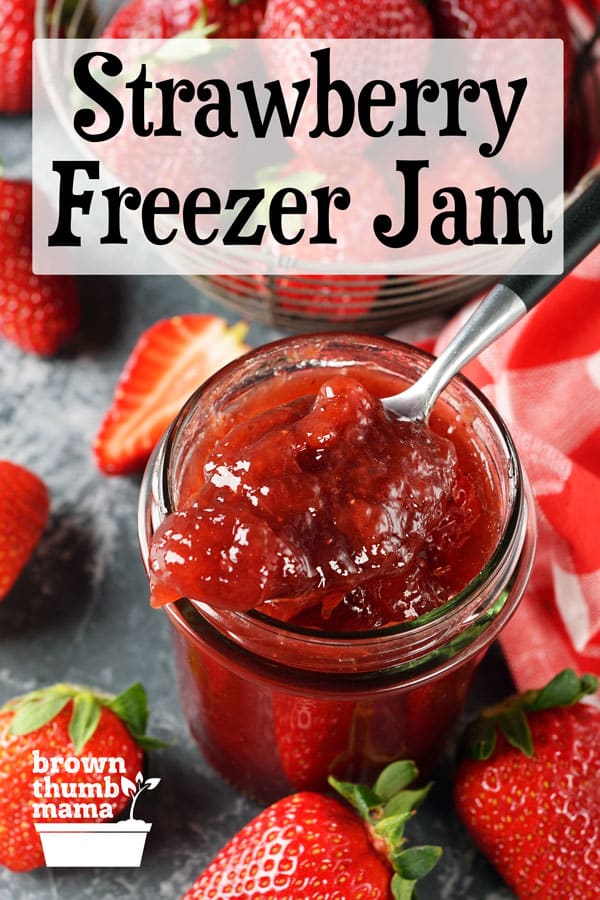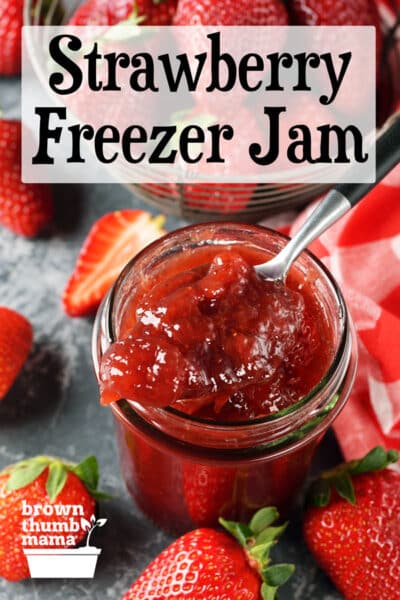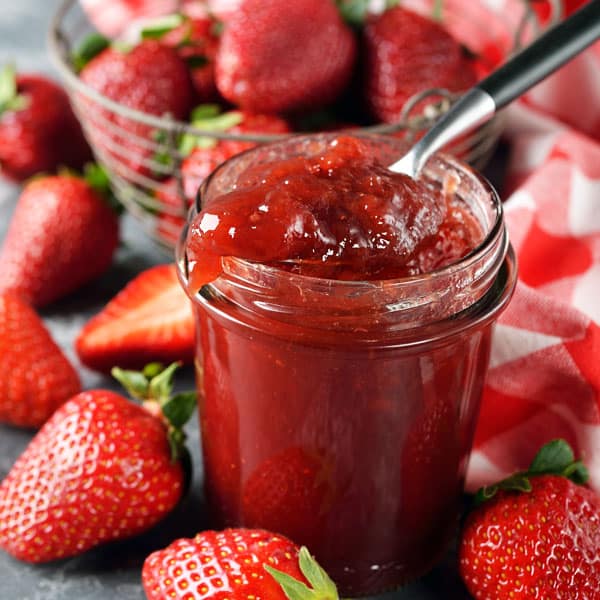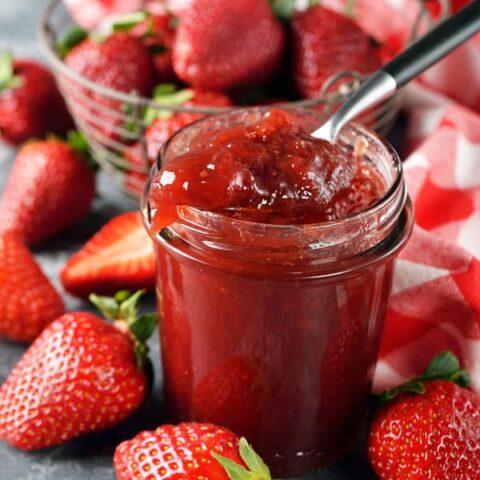 Strawberry Freezer Jam
Yield:
about 4 cups (32 oz)
Spoil your family with this easy Strawberry Freezer Jam! Preserve the delicious sweetness of summer strawberries with this quick recipe that doesn't need to be cooked or canned.
Ingredients
1 ½ lbs. strawberries washed, hulled and cut up
2 Tablespoons lemon juice
¾ cup water
Instructions
Using a fork, potato masher, or blender, mash the strawberries to your desired consistency. You want to end up with 2 cups of crushed strawberries.
In a large mixing bowl, combine the strawberries, lemon juice, and sugar. Allow this mixture to sit for 10 minutes, stirring occasionally to encourage the sugar to dissolve.
Put the water in a saucepan and add pectin, whisking to combine. A spring whisk works great for this.
Heat, stirring constantly, until it reaches a full rolling boil (lots of big bubbles that don't go away when you stir). Continue boiling for 1 minute, stirring the whole time.
Add the cooked pectin mixture to the fruit, and stir thoroughly to combine and continue melting the sugar (about 3 minutes). Then remove from the heat.
Using a measuring cup or ladle, scoop your freezer jam into clean canning jars or freezer-safe containers. Leave at least ½ inch of empty container at the top to allow for expansion when freezing (this is called headspace).
Set the lids on loosely and put all containers in the fridge for 24 hours so the pectin finishes firming the jam. Label and date the jars before freezing.
Time to eat! Your Strawberry Freezer Jam will keep in the fridge for up to 2 weeks or in the freezer up to 1 year.
Recommended Products
As an Amazon Associate and member of other affiliate programs, I earn from qualifying purchases.

Strawberry Freezer Jam Questions
What's the difference between strawberry jam and strawberry freezer jam?
Traditional strawberry jam is cooked and then canned in a boiling water bath, which takes time and heats up the kitchen. Strawberry freezer jam is minimally cooked, and preserved by storing in the freezer.
Why do you add lemon juice to homemade jam?
The lemon juice lowers the pH of the jam mixture, and it also helps the pectin make the jam "set up" or thicken.
Can I make freezer jam from frozen strawberries?
Yes! You can freeze fresh strawberries now to make jam later, or use frozen strawberries. Thaw completely before making jam and keep the juice for adding to milkshakes or popsicles.
Why does the freezer jam have to sit in the refrigerator for 24 hours?
This rest period helps the pectin to "set up" or thicken before freezing.
Why is my strawberry freezer jam cloudy?
Cloudy jam is usually caused because the pectin is not dissolved. Be sure to whisk the pectin into the water thoroughly.
Why is my freezer jam gritty or grainy?
Gritty or grainy freezer jam can result when the sugar is not dissolved completely. When mixing the cooked pectin mixture into the fruit, stir constantly until the sugar is dissolved.
How long will my strawberry freezer jam keep?
It will stay fresh in the refrigerator for about two weeks, and in the freezer up to one year.
What's the best container to store my freezer jam in?
I like to use these plastic freezer jars because they're less likely to break in the freezer. If you use these glass canning jars, be sure to leave at least 1/2 inch of headspace in each jar to allow for expansion while freezing.
My freezer jam didn't thicken. What should I do?
Congratulations! You now have a delicious strawberry syrup to put on waffles, pancakes, or ice cream.