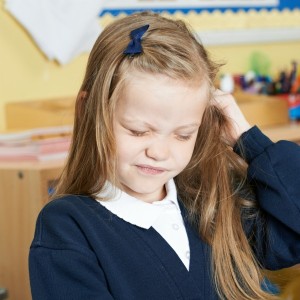 The hot topic at back-to-school night this year wasn't Common Core, or school lunch, or the new class schedule—it was LICE.
There's nothing like that letter that comes home on red paper to strike fear in the hearts of parents everywhere: "Student(s) in your child's class have been diagnosed with head lice."
Your head started itching just reading about it, right? None of us want to suffer through washing everything we own, combing through everyone's hair, and all the other ick that goes with a lice infestation…so prevention is the best plan.
Lice Prevention Tips
Lice can't fly, so keep long hair tied up in braids or a bun.
Remind your kids not to share brushes, hats, scarves, or headphones (!!) with classmates.
Use a daily lice-away spray on kids' hair.
I don't want to use chemical concoctions on myself or my kids, so we use natural remedies whenever we can. And natural remedies really work!
In this case, we're going to use two essential oils: Melaleuca (Tea Tree) and Lavender. In this study from PubMed, this combination of oils killed 97.6% of lice—and the chemicals only killed 25%.
Lice-Away Spray
Empty spray bottle (I get these for $1 at Target)
1/2 cup distilled water
20 drops Melaleuca (buy it here)
15 drops Lavender (buy it here)
Combine liquids in spray bottle. Each day, spray this on hair when brushing. Do not rinse.
For additional lice-prevention power, add these oils to the kids' shampoo and conditioner.
NOTE: the quality of the oils you use is important! Your skin is the largest organ of your body, and anything you put on your skin or scalp goes into your body and your bloodstream.

Many of the oils sold at health food stores and bath stores say "Not for internal use." That's because those oils could be contaminated with pesticides, additives, or synthetic fragrances.

You wouldn't spray Roundup on your kids' hair each day, so don't use contaminated essential oils either. Learn about the pure, premium quality oils I recommend.
What are your tips for lice prevention?