The original kitchen in our house was a true testament to the 1970s. Multicolored linoleum, Formica countertops, dark wood cabinets, and a light tan sink that always looked dirty, even when it was clean.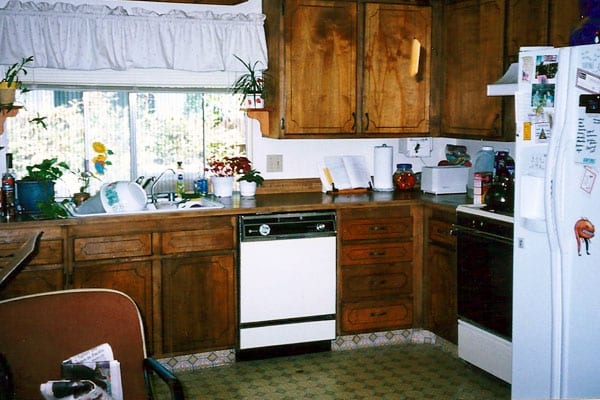 When we remodeled, we chose generic Corian (also called "solid surface") counters. We love the vibrant blue color with flecks of black, white, and gray—and chose a built-in white sink made of the same material.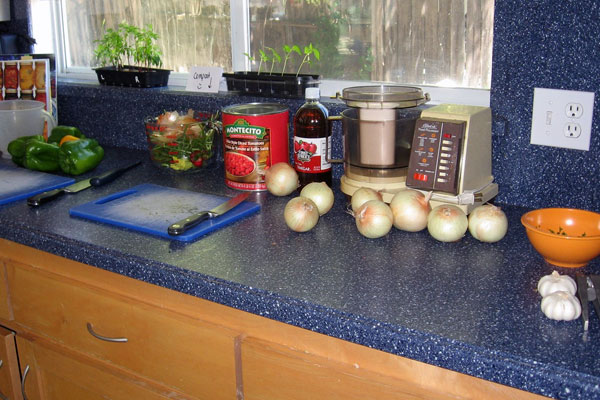 The countertop is sturdy, heat-resistant, and scratchproof, which are all great qualities in a counter! However, this means that if it gets stained, it's VERY hard to clean.
How do I know? Because our cast-iron wok sat in the sink while we were out of town recently. The sink had a nasty rust stain as a result.
I tried everything I could think of to get the rust out.
Homemade soft scrub didn't work.
Bon Ami didn't work.
Even my beloved Lemon essential oil didn't work.
We don't own chlorine bleach…and even if we did, I wouldn't want it in the sink where we prepare our food. I was at my wits' end, and was thinking about scrubbing the stain off with super-fine sandpaper.
With all the homemade cleaners in my house, there had to be something I could make, right? I started searching my reference books, like The Naturally Clean Home and DIY Non-Toxic Cleaning Recipes.
I couldn't believe how simple the final recipe was! Here's the secret for removing stains from Corian and other solid-surface materials.
Natural Corian Stain Remover
¼ cup baking soda
2-3 Tablespoons hydrogen peroxide
Instructions
Mix baking soda and hydrogen peroxide together to make a paste. Spread onto the stain and let it sit for up to 24 hours. Scrub gently while rinsing, and repeat if needed.
This has a mild bleaching effect, so test it on a hidden spot before using on colored surfaces.
What cleaning conundrums are you facing at your house? Comment below and I'll start researching. 🙂