This post may include affiliate links.
If you make a purchase, I'll earn a small fee at no extra cost to you.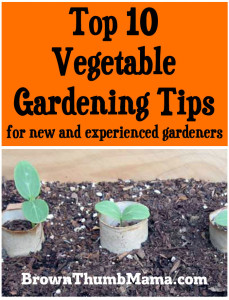 I love vegetable gardening, and as always, some years are better than others (to wit: my ongoing trials with growing potatoes). I started helping my Grandpa and my parents grow veggies as soon as I was old enough to start playing in the dirt.
So with the confidence that comes from *cough* several years of experience *cough*… here are my top 10 vegetable gardening tips for new and experienced gardeners.
Veggie Gardening Tips
Have you ever gotten out to the garden with all your tools, seed packets, and whatnot, only to realize you have no way to measure how far apart different plants or rows should be? Save yourself a trip back to the house (and the muddy carpets that will inevitably follow). Use some old paint and mark feet and inches on a hoe or spade handle so you always have a ruler handy.
Some plants love to be planted together, and others will just about ruin each other (e.g., don't plant beans near onions). Check out Carrots Love Tomatoes for the scoop on companion planting.
When you prune your roses or prickly berry bushes, bring a pair of BBQ tongs with you. Use the tongs to hold the cane with one hand while you prune with the other. Safe and painless!
Not every bug you see in the garden is bad. In fact, the ugly ones are usually the best! Learn about how to keep the bad bugs out of your garden.
Save time and space in your backyard by putting worms in your compost bin. The compost will process quicker and the worms will love it (especially if you're like me and the compost never gets hot enough to hurt 'em). You won't end up with pure worm castings, but your compost will be pretty doggone great. This is the compost bin I have and it's fantastic.
If you have lots of weeding or planting to do, wear
thin medical gloves
instead of regular gardening gloves. You'll have better control without the bulky fabric of gardening gloves, and your hands will stay clean.
Do you have old fingernail polish that should have never touched your fingers in the first place? Check the dark recesses of your bathroom cabinets for those obnoxious 80s neon pinks and 90s blue polishes…you know they're in there. Now that you've found them, paint the handles of your gardening tools with an assortment of these unique colors so you can spot the tools when you leave them in the dirt.
This tip comes from Farmer Fred Hoffman, a Lifetime Master Gardener and host of the KFBK Garden Show on Sunday mornings. (Can I tell you how geeked I was when I saw an email from THE Farmer Fred in my inbox? Wowzers!)
Need to upright a small plant in a hurry? Use cuttings from tree prunings as small stakes. Cuttings from fruit tree prunings work best, I have found, simply because they provide consistently straight wood. Cut them about 12 inches long, about the thickness of a pencil. These are especially handy when young, quick growing cherry tomato plants get too big for their greenhouse britches.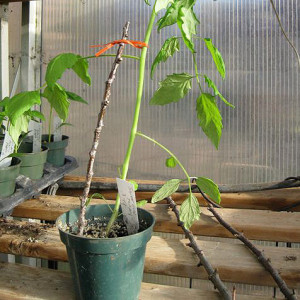 If you're one of those lawn fertilizing people (learn why I don't use fertilizer), the grass probably goes crazy in the summer. Help prevent grass clipping buildup on the underside of your mower by coating the underside with car wax.
Save your toilet paper tubes, cut them in half, and sink them into the ground before planting your seeds. The tubes become a little protective "fort" to keep the cutworms away.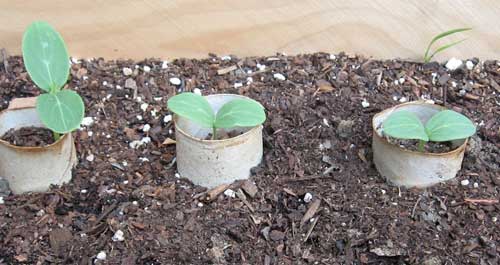 What else can you think of? Share your gardening tips in the comments!