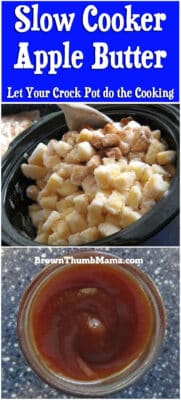 You won't believe how easy it is to make this slow cooker apple butter! Just a handful of ingredients combine to make a flavorful spread that's delicious on english muffin bread, bagels, or a turkey sandwich.
What's apple butter, you say? Ohhh…once you taste this treat, you'll be hooked. Apple butter is simply applesauce that's been cooked down until it's brown, caramelized, rich and delicious.
Depending on the sweetness of your apples, you may need even less sugar than the cup I used.
Crock Pot Apple Butter
Ingredients
10 or more apples (I used Fuji apples this time)
1 cup sugar
2 teaspoons cinnamon
1/8 teaspoon cloves
1/8 teaspoon salt
Instructions
Wash a bunch of apples. Don't these look delicious?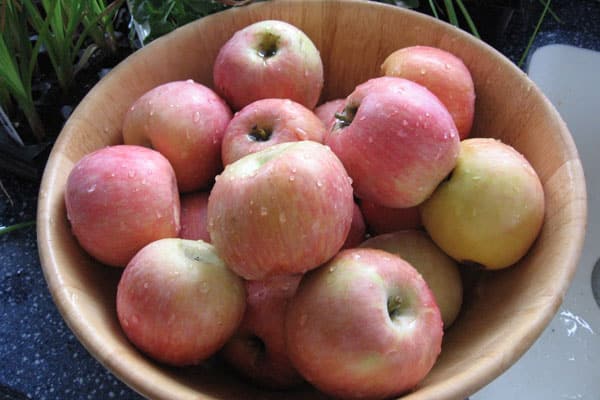 Cut off the tops and bottoms, since that makes them easier to peel. Save the trimmings and peels for your compost. I like to put the scrap bowl in an open drawer so it's lower and easier to peel into.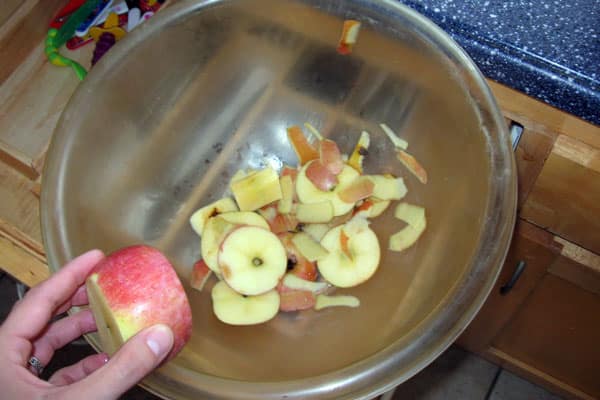 Once they're peeled and cored, enlist your Noble Assistant to chop the apples. Butter knives are strongly recommended (as well as an extra apple or two for him to eat).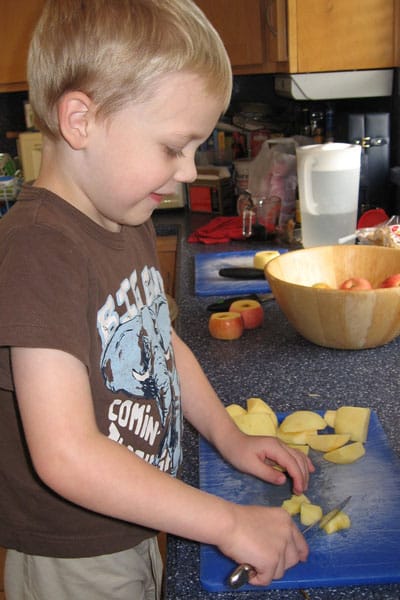 Chop and chop until the crockpot is full. Then add the sugar, cinnamon, cloves, and salt. No liquid is needed! Stir carefully and cover. Cook on High for one hour, stirring every 15 minutes. Then turn down to Low and cook for 9 hours, stirring occasionally, until dark brown.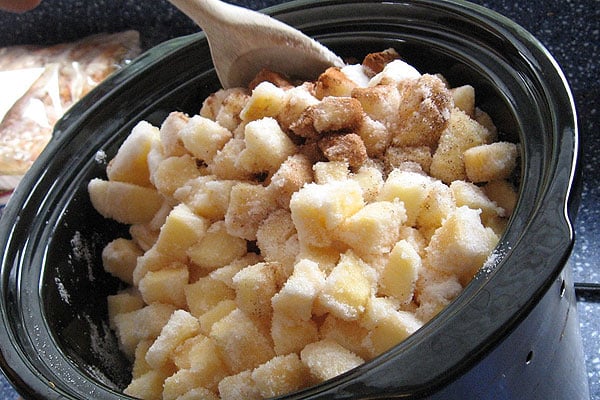 If there are any lumps, use an immersion blender to smooth everything out. If it's not thick enough, cook for an additional hour with the lid off. Pour into a canning jar (I like these) and refrigerate or freeze. Yum!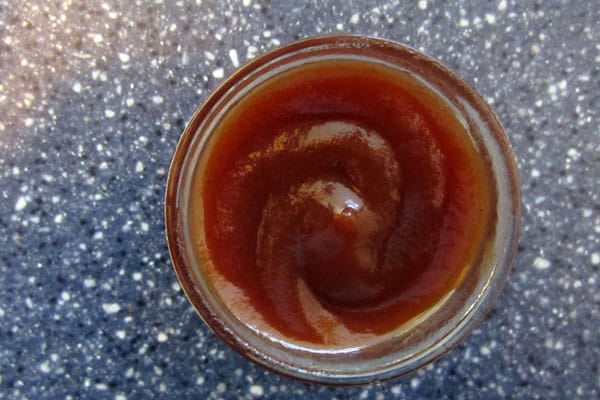 This batch made 6 small jars–enough for some to save and some to share.