This post may include affiliate links.
If you make a purchase, I'll earn a small fee at no extra cost to you.
It's a busy Mom's dream! These chicken fajitas are full of flavor and spice, and are ready in minutes thanks to the Instant Pot.
Okay friends, no secrets here…our family is CRAZY about Mexican food. You might have noticed this already, since over the years I've shared my Homemade Taco Seasoning recipe and my tips for making Refried Beans in the Crock Pot. And don't forget my Homemade Hot Sauce!
One of the things I hadn't tried (until now) was making my favorite Mexican foods in the Instant Pot. I've used the IP for soups, roasts, and rice, but I know it can be used for much more.
That's why I was so excited to see my friend Emily's new book, Amazing Mexican Favorites with Your Instant Pot. This gorgeous recipe book contains 80 delicious, authentic Mexican recipes with unprocessed, real food ingredients…all made in the Instant Pot.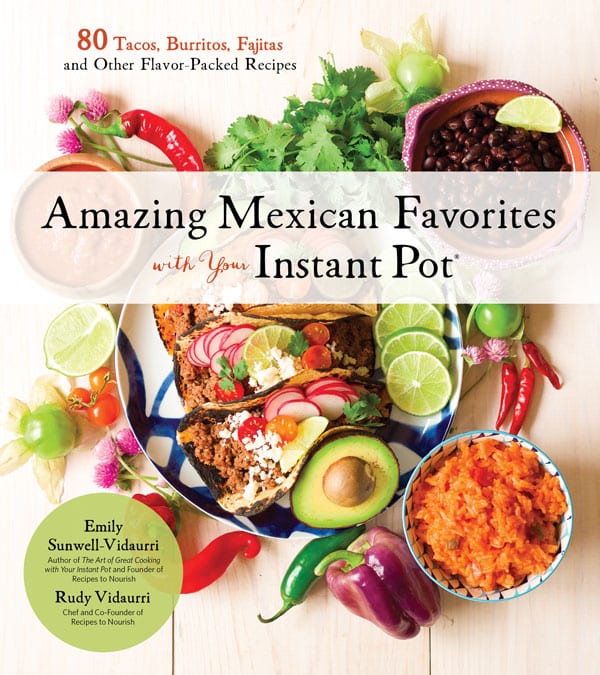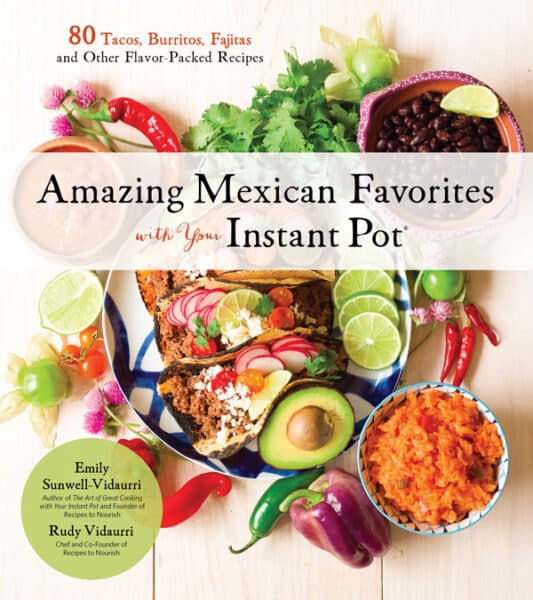 Here are some of the recipes included in this amazing book: Barbacoa Shredded Beef, Pork Chili Verde, Shrimp Fajitas, Salsa de Chile Rellenos, Zucchini Corn Soup, and Spanish Frittata…YUM! There are even desserts you can make in your Instant Pot (like Flan or Mexican Hot Chocolate).
She's given me permission to share this recipe from her book, so you have a sneak peek at the wonderful recipes she has created.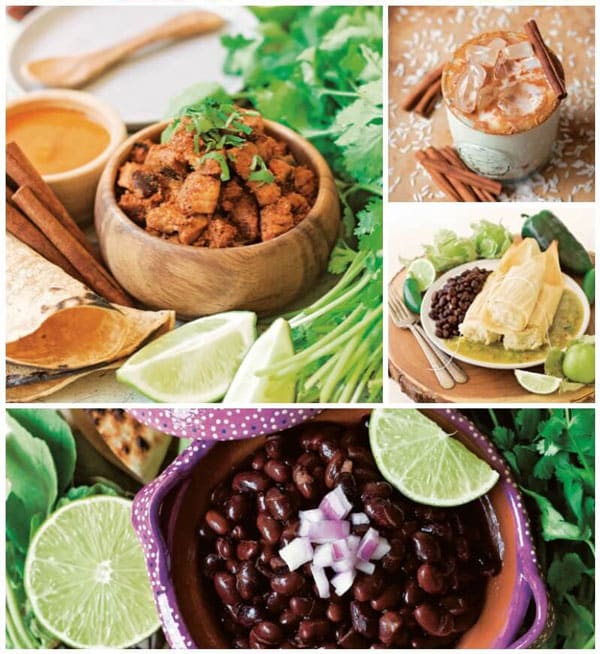 Let's get cooking!
Tools Used to Make Instant Pot Chicken Fajitas
Here are the tools I recommend to make this recipe quickly and easily:
Amazing Mexican Favorites with Your Instant Pot: so you can try more recipes after you fall in love with this one!
Instant Pot: I have the 6 quart size, and that's perfect for this recipe.
Chicken Fajitas in the Instant Pot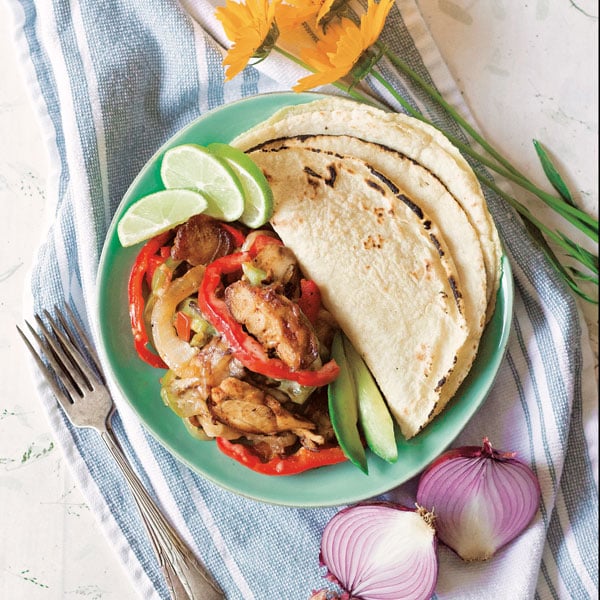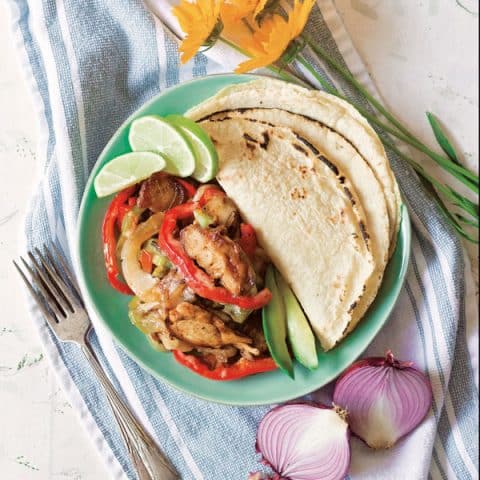 Chicken Fajitas in the Instant Pot
Yield: 4

Prep Time: 20 minutes

Cook Time: 11 minutes

Total Time: 31 minutes

Walk into the warm aroma of simmering meat with bell peppers, onions and Mexican spices as you prepare to stuff your favorite tortillas or load your plates with delicious fajitas. This Tejano or Tex–Mex dish originated in northern Mexico and quickly became popular in the United States. Traditionally made with grilled meat, our version offers a hearty bite of potato to an already star-studded cast of ingredients and brings all of the flavors together in a quick Instant Pot rendition.
Ingredients
2 tbsp butter, ghee or avocado oil
1½ lbs chicken breast, thinly sliced
½ cup chicken broth
¼ cup chopped fresh cilantro
1 red onion, peeled and sliced
5 fresh garlic cloves, minced
1 small red bell pepper, stemmed, seeded and sliced
1 small green or yellow bell pepper, stemmed, seeded and sliced
2 jalapeño peppers, stemmed, seeded and sliced
1 russet potato, peeled and cut into wedges
1 small tomato, seeded and diced
1½ tsp sea salt
1 tsp ground cumin
1 tsp chili powder
½ tsp dried oregano
¼ tsp ground black pepper
¼ cup fresh lime juice
Optional Toppings and Fixings
Grated cheese
Guacamole
Sour cream
Salsa or hot sauce
Lemon or lime juice
Freshly chopped cilantro
Warmed tortillas, gluten-free corn, grain-free, etc.
Instructions
Add the healthy fat of your choice to the Instant Pot and press "Sauté." When the fat has melted, add the chicken and brown for 3 minutes on each side.
Remove the browned chicken to a plate and set aside. Add the broth to deglaze the Instant Pot.
Press the "Keep Warm/Cancel" button. Add the cilantro, onion, garlic, bell peppers, jalapeños, potato, tomato, salt, cumin, chili powder, oregano, black pepper, lime juice and chicken, then stir to coat the chicken.
Place the lid on the Instant Pot, making sure the steam-release valve is sealed. Press the "Manual" button and set for 5 minutes.
When the Instant Pot is done and beeps, press "Keep Warm/Cancel." Allow the Instant Pot to release pressure naturally for 10 minutes. Using an oven mitt, open the steam valve. If there is any steam left over, allow it to release until the silver dial drops, then carefully open the lid.
Serve immediately with your favorite fajita toppings and fixings.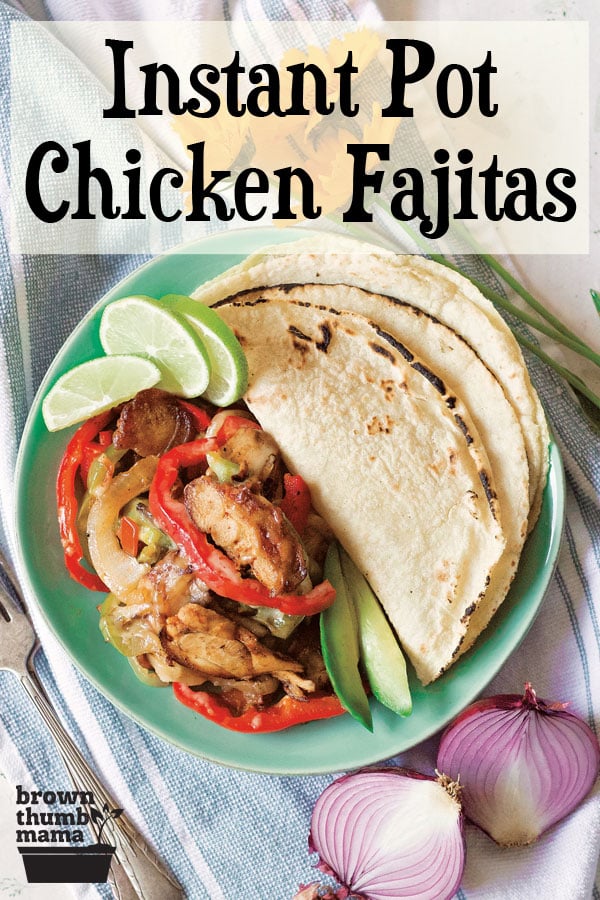 Is your mouth watering? Our whole family loved these delicious chicken fajitas. I can't wait to try more of her recipes!
Grab a copy of Amazing Mexican Favorites with Your Instant Pot for lots of fast, nutritious recipes. It will be a family favorite, I'm sure.