I'm not much of a bean eater, but the rest of the crew loves refried beans with their chips and tacos.
Cans of Rosarita beans are inexpensive (about $1 each at Costco), but I knew I could do better. Besides, I have a long and storied history of making things instead of buying them.
This is a perfect recipe to help get your kids in the kitchen. Crock Pot cooking is safer than stovetop, and little hands can measure and pour ingredients easily. They can even chop onions with a butter knife if they can stand the smell!
I used a 4.5 quart Crock Pot to make these, but you can also make them in the Instant Pot on the "slow cooker" setting.
Crock Pot Refried Beans
Ingredients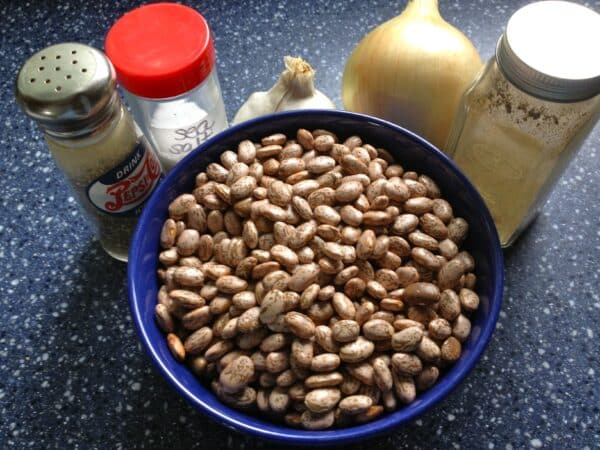 1 lb dried pinto beans
1 small yellow onion, chopped fine
2 Tbsp. minced garlic
1 Tbsp. salt (I recommend RealSalt for its natural minerals)
1/2 tsp. black pepper
2 tsp. cumin
1 Tbsp. homemade taco seasoning mix
Instructions
News flash! You don't need to soak your beans before cooking. Just dump everything into the Crock Pot and add plenty of water (at least a couple of inches above the beans).
Cover and cook on low for 6 hours. The beans are done when they are tender and starting to split.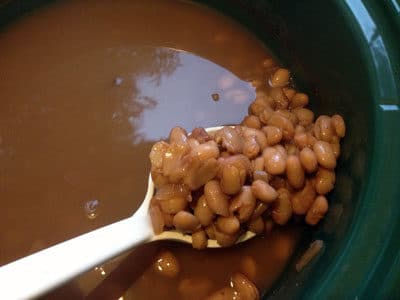 Taste and adjust seasonings if desired. Scoop beans out into a big bowl, keeping the cooking liquid in the pot.
Mash the beans, adding cooking liquid as needed, until they're your favorite consistency. My crew likes them lumpy, so I use an old-fashioned potato masher. If you prefer a smoother consistency, use an immersion blender.
Makes 6 cups (equal to 3 cans).
Price breakdown
This is fabulous. The only ingredient I needed to buy was the beans, which were $1.39. The onion and garlic were from the garden, and I had the other spices already on hand. This makes each "can" of beans just 46c. If I'd bought the beans at Costco, they'd have been 78c a pound–for a grand total of 26c a can.
Grab some chips and taco fixins and dinner is served!