We had Rice-a-Roni all the time with dinner when I was growing up. We even ate it a lot as newlyweds, when our food budget was $25 a week.
I didn't give it a second thought until we started to eat healthier a few years back. Then I looked at the ingredients and saw that it contains more food additives than food!
For example:
Disodium Guanylate
Disodium Inosinate
Ferric Orthophosphate
Ferrous Sulfate
Thiamin Mononitrate
Granted, some of those are vitamins that they spray on the food to make it "better for you," but that's a whole different rant altogether.
It's easy enough to make rice-a-roni from scratch–but I'm going to let you in on the secret ingredient that makes it 100% perfect.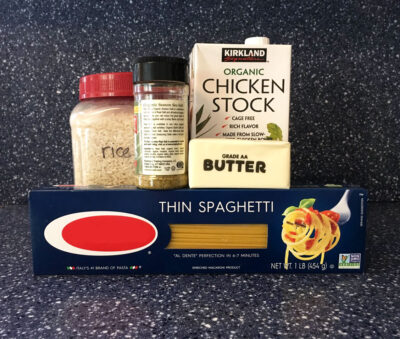 Are you ready? You'll never guess.
By the way, I can pretty much guarantee that this is not in the boxed stuff–but it will make your version over-the-top good.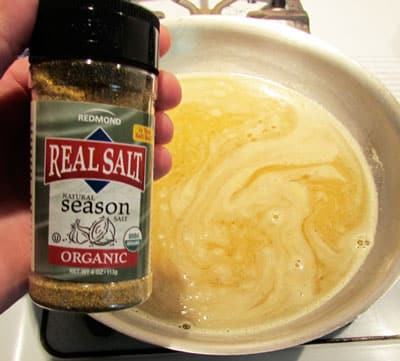 This is RealSalt Organic Natural Season Salt and it is AH-MAZ-ING.
What's so special about RealSalt? It's a combination of what it doesn't contain and what it does. Many salts contain anti-caking agents and even dextrose (sugar). Others have been heat processed and stripped of their natural trace minerals.
RealSalt, on the other hand, is unrefined and full of natural minerals and flavor. It contains more than 60 trace minerals, so it's great for seasoning food, adding to homemade electrolyte drinks, and even for soaking in a detox bath (in bath salt form, of course).
Organic Natural Season Salt contains Real Salt, organic onion, organic coriander, organic mustard, organic black pepper, organic paprika, organic celery seed, organic turmeric, and organic parsley. We use it on just about everything. It really puts the rice-a-roni over the top! Which reminds me…back to the recipe.
Homemade Rice-a-Roni
Ingredients
1/3 cup uncooked thin spaghetti, broken into small pieces
2/3 cup uncooked long-grain rice
2 tablespoons butter
2 cups chicken broth
1 teaspoon RealSalt Organic Natural Season Salt
Instructions
Melt the butter in a skillet and saute the pasta and rice until slightly golden. Add the chicken broth and RealSalt and bring to a boil.
Cover, reduce heat and simmer for 18-20 minutes until liquid is absorbed. Garnish with parsley or slivered almonds and serve.
Pat yourself on the back! You just made rice-a-roni from scratch in the SAME amount of time it takes to make the boxed stuff.
Kitchen Tip
Mix up a big batch of the dry ingredients in a canning jar so it's ready to fix at a moment's notice. Just use 1 cup of mix for every 2 cups of chicken broth.