On Saturday, I bought a 10-pound bag of organic carrots at Costco for less than 5 bucks. What can I say? The price was great. That sure is a lot of carrots though.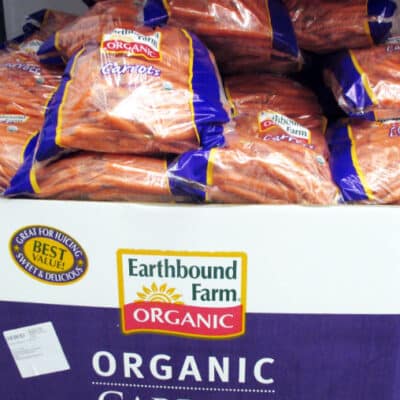 If you follow me on Facebook, you've seen some of the different carrot dishes I've inflicted served to the family. Hubby insists on eating them "undefiled" (i.e., uncooked) but the kids have at least tried each one of them. I bet he'll eat carrot cake, though…
This zesty Carrot and Jicama Slaw holds up great in the fridge and is perfect to take to a potluck or picnic because it won't spoil in the heat. (4th of July, anybody?) The dressing gives it a little bit of zing, but it's not too spicy for the kiddos. It's dairy-free, gluten-free, and delicious!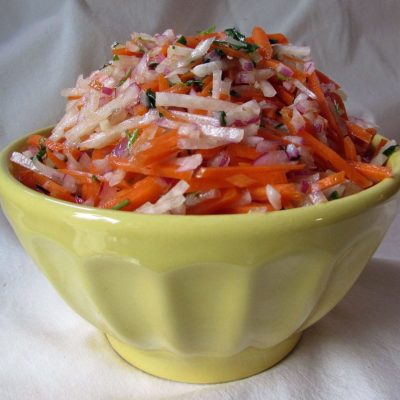 If you've never tried jicama, please do! It's a delicious, mild-flavored root vegetable that has a similar texture to apples. We love it on a veggie tray, in green salad, and in this slaw recipe. We even grow it in our garden!
Carrot and Jicama Slaw
Slaw Ingredients
4 cups of carrots, julienned (I used 7 carrots)
1 small jicama, julienned
1 small red onion, julienned
1/2 cup chopped cilantro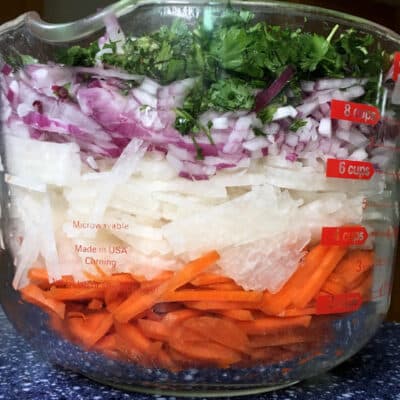 Dressing Ingredients
1/3 cup olive oil
6 Tablespoons unseasoned rice vinegar (I like this brand)
3 Tablespoons lime, lemon, or orange juice (whatever you have on hand will work!)
1 teaspoon salt (I recommend RealSalt for its natural minerals)
1 teaspoon sugar
Instructions
Combine all ingredients and let sit for at least 15 minutes to meld flavors.
Kitchen Tips
If you don't have a mandoline slicer, I highly recommend the Borner V-Slicer. It took me just a couple of minutes to julienne all the veggies–and look how nice and even they are.
We still have about 6 pounds of carrots to eat…can you share some recipes? And follow along on Facebook as we plow through the rest of the bag!