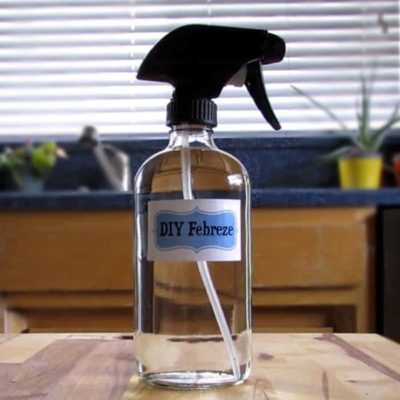 When I see the junk that advertisers try to pass off on us as "pure" or "natural," I have a fit. Since those terms are not regulated, any manufacturer can slap those words on a package and fool the public into thinking a product is safe.
For example, let's look at the popular air freshener Febreze. You can spray it in your house, light candles with Febreze scents, even put little Febreze scent "gems" in your car.
Here's why you don't want to use any of those products…
Toxins
Have you seen the latest batch of Febreze air freshener ads? Their slogan is "breathe happy." Unfortunately, breathing in these toxic chemicals does not make me happy:
BHT
ACETALDEHYDE
1,3-DICHLORO-2-PROPANOL
METHYL PYRROLIDONE
BUTYLPHENYL METHYLPROPIONAL
ETHYL ACETATE
BENZALDEHYDE
DIETHYLENE GLYCOL MONOETHYL ETHER
ETHYLHEXANOL
HEXYL CINNAMAL
And this is only a partial list–read more at Environmental Working Group (EWG).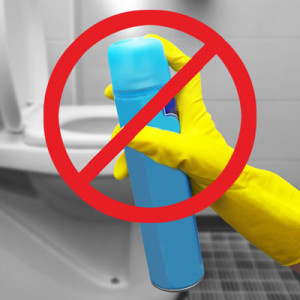 Deception
"But wait!" you say. "The ingredient list on the bottle says, 'Contains water, alcohol, odor eliminator derived from corn, fragrance.' Why aren't all those chemicals listed?"
For one single reason–they don't have to be.
Under the Federal Hazardous Substances Act, manufacturers are not required to list all ingredients of household cleaners. This is ostensibly to protect their formulations (I find that odd because bread has all the ingredients listed and there's no lack of healthy competition there…but I digress).
Besides sounding horrible, why are these ingredients harmful? EWG explains: "Ingredients commonly used in fragrances in air fresheners include phthalates, which make fragrances last longer and are linked to male reproductive system birth defects and hormone disruption, and synthetic musks, which are linked to allergies and hormone disruption."
There's no way I'm letting those chemicals anywhere near my family!
It's easy to make your own air freshener spray, and you won't have to worry about toxic chemical residue on the baby's crib–on the dog's chew toys–on anything at all.
DIY Febreze Air Freshener Spray
Ingredients
16 oz. glass or plastic spray bottle (I like these)
1 tablespoon baking soda
2 cups distilled water
10 drops essential oil (a single scent, or a mixture. Imagine the possibilities!)
Learn more about the premium essential oils I recommend.
Instructions
Measure the baking soda into a bowl and add the essential oil(s) on top.
Using a fork, mix the oil into the baking soda. This will help keep the oil suspended in the water.
Put the baking soda/oil mixture into the spray bottle (a funnel helps) and top off with the distilled water. Label your bottle, shake before use, and breathe happy–and safely.
P.S. Don't throw that bottle of Febreze away. It is hazardous waste (isn't that scary?) and must be disposed of at a licensed facility. Find one near you at Earth911.
DIY Febreze Scent Ideas
Here are a few of my favorite scent combinations using essential oils.
For even more ideas, check out my book of diffuser recipes–all of the oil combinations in the book can be used to make DIY Natural Febreze!
Wake Me Up
5 drops Peppermint essential oil
5 drops Wild Orange essential oil
Hawaiian Sun
5 drops Wild Orange essential oil
3 drops Ginger essential oil
3 drops Ylang Ylang essential oil
Icy Orange
3 drops On Guard
3 drops Peppermint
3 drops Wild Orange
Elevate Me
6 drops Citrus Bliss
4 drops Peppermint
1 drop Elevation
Fields of Flowers
3 drops Balance
3 drops Citrus Bliss
3 drops Forgive
Odor Control
8 drops Purify
2 drops Lavender
Blue Moon
4 drops Bergamot
4 drops Lemon
2 drops Rosemary
2 drops Peppermint
Fresh and Fruity
4 drops Lemongrass
3 drops Wild Orange
2 drops Peppermint
Save