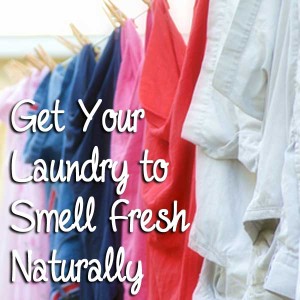 Thanks to Little Peanut, we've been doing a lot of laundry these days. Between the spit up and the other [ahem] biological weaponry she wields, the towels and baby clothes just smell funny. They're clean but they have a sour smell that doesn't come out–and we use unscented laundry soap, so it's pretty obvious.

I did a bit of research and found the secret to fresh-smelling laundry was already in my cleaning cupboard: vinegar and baking soda. Here's how to do it!
Quantity
Wash half the amount of clothes you would normally put in a load. This ensures everything has plenty of room to swish around, get clean and then get rinsed well.
Water
The hottest the garments can handle. For me, this is hot water with a cold rinse.
Vinegar
Fill the fabric softener dispenser with plain white vinegar. If you don't have a dispenser, pour 1 cup in the washer during the rinse cycle.
Baking Soda
Add 1 cup along with the laundry soap while the washer is filling.
Soak
After the clothes have agitated for a minute or two, turn the washer off and let the clothes soak for about 30 minutes. This is the secret! A good soak in the hot water really does the trick.
After the soak
Turn the washer on and let it finish as normal. Get the clothes in the dryer right away (or line-dry them for extra credit and freshness). Enjoy your fresh, fluffy laundry!