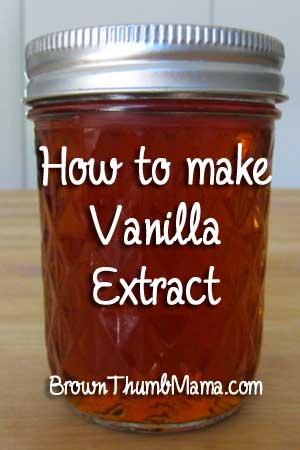 If you put a kid in the kitchen, he'll want to make cookies. And if he wants to make cookies, he'll need some vanilla. If he uses enough fancy $10-for-4oz. organic vanilla, Mama will want to start making her own. And here we are!
Ingredients:
Five vanilla beans (I used these); cost: $6
750ml plain vodka; cost: $10
Split the vanilla beans open and then cut them in half.
Place the beans in the jar and pour the vodka over the top.
**Brain Flash:** I could have just put the vanilla beans in the vodka bottle. Oh well…
Put the jar in a cool, dark place and leave it steep for a while. Here it is after two weeks. Once the vodka turns a lovely carmel color, it's ready!
Pour into pretty jars for gifts, or to keep for yourself. If you're using a clear jar, store your vanilla in a dark place.
Fancy vanilla: $10 for 4 oz ($2.50 per ounce)
Mama's vanilla: $16 for 25 oz ($0.64 per ounce)
Let's start baking!